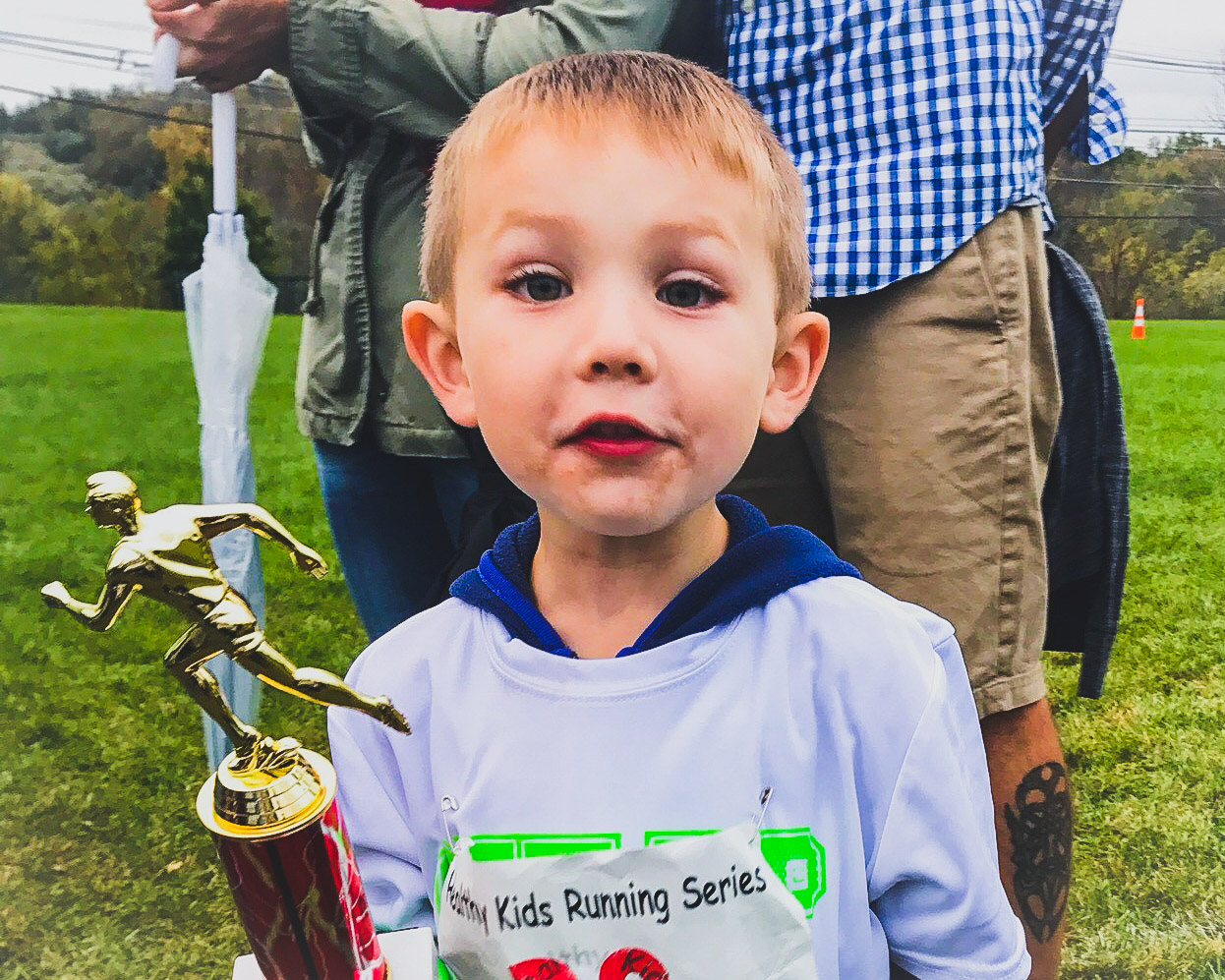 Your stories are what makes Healthy Kids such a success.  The joy and sense of accomplishment that comes with our Series can really jump start a Healthy and Happy Life. We see a manifestation of this in our runners every single race.  That is why we will start to spotlight some of our amazing Healthy Kids across the country right here on the HKRS Blog.
Super Jack, from Newton, New Jersey, is our first spotlight!
Jack is one of our star runners, placing third in his series last Spring in the 50 Yard Dash.  He is lightning fast, as you can see from one of his highlights below!  …what a natural running form!
At just two weeks old, Jack was diagnosed with Cystic Fibrosis.  This rare genetic condition causes a mucus buildup within the lungs and other organs.  The results lead to difficulties breathing and absorption of key nutrients in the digestive process.
The good news is that staying active and healthy helps Jack to fight his condition.
Jack never lets his diagnosis affect his incredible attitude and pure joy of life.  At his Series, he can be found with a big smile on his face, waving to his cheering fans as he rips down the race course.
Jack's family also exemplifies the ideals of HKRS.  Jack, with his Mom and Dad orchestrate nightly races in their backyard together, with Jack's sister, Cora, cheering loudly.  We think Cora might be ready to hop into a Healthy Kids Race very soon!
Jack not only thrived in the races, but also made some awesome friends in the process. He even wore his medal and trophy to school to let everyone know how much fun he had. Healthy Kids is all about the friendships and experiences we make through the sport of running! Jack definitely has the Get Up and Go attitude.
Jack is also part of an annual Cystic Fibrosis Walk-a-Thon every May, wearing his signature 'Super Jack' Cape while he walks to support the fight against Cystic Fibrosis.
Research for Cystic Fibrosis is constantly achieving new developments and advancements to help those with the condition.  Learn more about these developments and what you can do to help at the Cystic Fibrosis Foundation.
Congratulations Super Jack! We cannot wait to see what you do this Spring!!