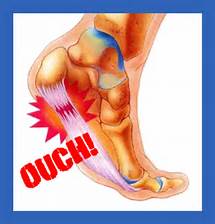 Foot pain will affect everyone at one time or another, but outside of a chronic injury, there are some super-simple fixes to help out and to keep you on your feet.
Wear supportive shoes when walking, running, etc. for an extended period of time- this seems like a no-brainer, but how many times have you walked around in flip-flops for way longer than you intended to without even thinking about it? Keep a pair of sneakers in your car or by your door to remind you to wear them if covering a lot of ground or standing for a long time.
Change out your sneakers frequently- the soles of most sneakers are made up of various densities of foam or other synthetic materials which will break down over extended usage. If you or your child are running or doing another sport, be sure to change your sneakers about every 6 months, between seasons, or 300-500 miles of distance running.
Have arch pain? Try out this trick! Throw a golf or lacrosse ball in your freezer for about 24 hours.  Roll the ball under the heel and arch of your foot in a circular (both clockwise and counter-clockwise), front/back, and side to side pattern.  This will help to work out any kind of soreness in the muscles and tendons while chilling the pain at the same time.
Take care of your feet so you can #getupandgo!