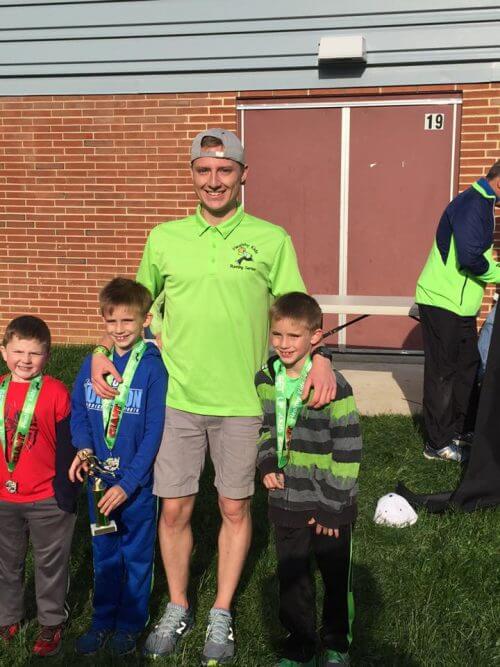 Tyler Muse is our Community Coordinator for the Healthy Kids Running Series in Wilmington, Delaware.  Tyler initially started with HKRS as a volunteer at the Wilmington Series in Fall 2015 and took the plunge in Fall 2016 into coordinator-dom.
Tyler says that hands down, his favorite part of HKRS is being able to watch the kids grow, not only in the sport of running, but overall.  He loves seeing times improve week to week, but just watching the kids form friendships and get outside of their comfort zone through this running program really makes his job as a CC worth the effort.
Tyler also says, "HKRS allows children to learn and grow in a sport that has such a great level of health benefits.  In today's society, with the increase of technology and gaming devices, it seems less and less children are exploring activities outside, and instead staying inside on their tablets, Iphones, etc. Being a part of the Wilmington HKRS allows children to be active, create friendships, learn determination and hard work, and ultimately create a healthy lifestyle to lean on while they develop into young adults. Children at young ages are not able to realize the importance of exercise and a healthy lifestyle, but through the help of HKRS, our coordinators and volunteers, and the parents, we can get them started on the right foot."
Outside of HKRS, Tyler's life still revolves around running.  Tyler is a competitive runner and races as part of the New Balance Delaware Racing He loves running local races in the Newark and Wilmington, DE area.  This fall, Tyler will be running his first marathon and will be getting in his extra miles as an assistant coach at Salesianum School for Cross Country.
Thanks, Tyler for setting a great example for the kids in your community and best of luck pounding the pavement! Way to #getupandgo!