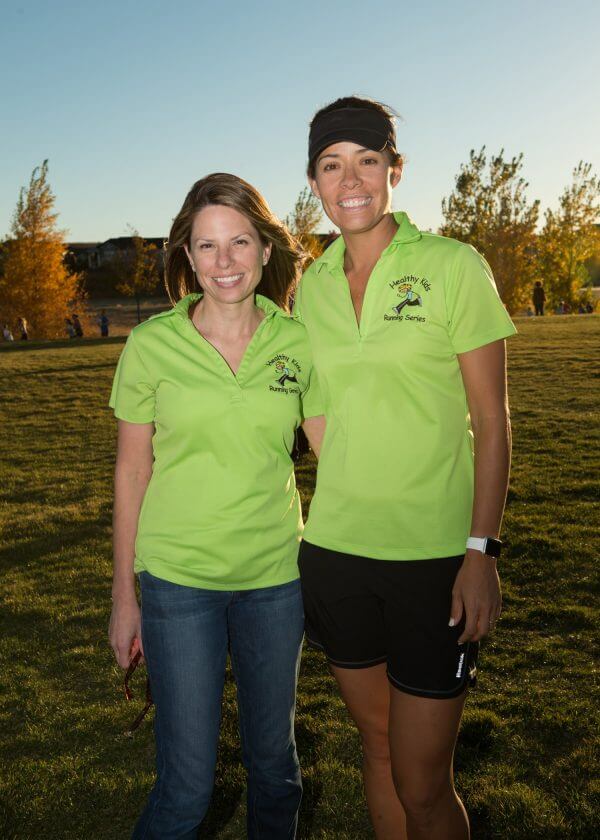 Meet our featured Community Coordinators, Jeanne Hill and Claudia Navarro from Aurora, Colorado
Jeanne and Claudia first met in 2014 when Hill reached out to Navarro's fitness business to sponsor her Series. Claudia was very excited for the opportunity because she had been looking for a fitness program for her own small children. After a season of participation, Claudia signed on to be Jeanne's sidekick and the rest has been HKRS history!
Hill and Navarro both note that watching the kids improve week after week is one of the greatest things about being a coordinator.  Seeing their progress and watching their faces light up as they cross the finish line is what they feel is the biggest prize.  They agree that HKRS provides families with a great opportunity to come together and enjoy physical activity in a welcoming environment.  They both believe that physical fitness in a non-competitive environment is one of the core reasons that HKRS is so successful. 
Aurora's Series has been so well received in the community that they have local businesses contacting them to see how they can get involved! Community outreach is very important to Hill and Navarro.  Last fall because of monetary donations from some local sponsors, they provided 4 scholarships to kids that otherwise may not have been able to afford the registration fees.  Navarro notes that this just goes to show how important the program is to other businesses in the community and how great of an opportunity HKRS is for the local kids!
Thank you Claudia and Jeanne for your efforts and for being a part of our Healthy Kids Running Series family of coordinators!
Photo courtesy of Camile Morrison from www.THEABSTRACTOWL.com