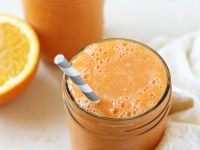 Fall means a lot of things, shorter days, raking leaves, and the inevitable colds.  This smoothie recipe form cooknourishbliss.com is a great way to get a few extra servings of vitamin A and C rich fruits and veggies to ward off illness.  The ratios of ingredients in the recipe can be adjusted to taste as well, and the almond milk can be replaced with any other dairy or non-dairy milk if dealing with a food allergy.
Ingredients:
1 orange, peeled and segmented
3/4 cup peeled and chopped carrot (about 2 carrots)
3/4 cup frozen mango chunks
1/2 to 1 tablespoon fresh chopped ginger (to taste)
Dash of ground cinnamon
1 cup unsweetened vanilla almond milk
Handful of ice cubes
Directions:
Blend all ingredients until smooth and add ice as needed to get desired consistency! Enjoy immediately!