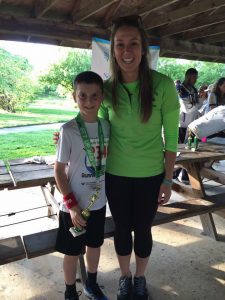 Kristen Neugebauer- Concord Township, PA Community Coordinator
Kristen works for HKRS as a community coordinator in Concord Township, PA and her first season was last Spring.  Neugebauer first heard about the series through a neighbor, and knew it was the right community organization for her to showcase her passion for health and exercise.
 Kristen works as a Health and Physical Education teacher and has been living in Bangor, Maine this summer to finish her Master's Degree in Orientation and Mobility.  She has been working with individuals who are blind or visually impaired to learn unique travel skills to help them maintain safe and independent lives after vision loss. Kristen's other athletic endeavors include coaching ice hockey for a developmental youth girls program in Exton, PA.  She also loves to lift weights and run herself!
Kristen also believes that one of the most important things is that HKRS gives kids the opportunity to enjoy empowerment through exercise. She notes that one of the highlights of her series is seeing the smiles of the kids participating and having fun.  Her proudest moment as a coordinator has been hearing the kids at the end of the races say how much they love HKRS and seeing them wearing their shirts and medals – and even refusing to take them off! She loves that the kids are finding out each week, from a young age that they can be a part of something special and have a great time exercising!
Thank you Kristen for all that you do! We are proud to call you part of the HKRS family of coordinators!