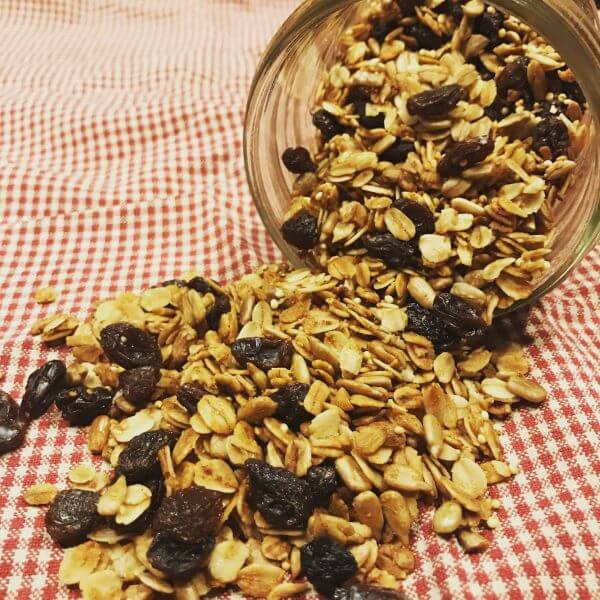 There's nothing quite like a warm Oatmeal Raisin cookie, but since I try not to have my children eating cookies at breakfast, I made the next best thing- Oatmeal cookie granola!
This recipe has tons of variations- feel free to add in a half cup of your favorite nuts like raw almond slivers, or peanuts, and swap out the raisins for any other kind of dried fruit.  The beauty of this recipe is that it can be whatever you want and let your kiddos help you! It's super easy and almost impossible to mess up!
Ingredients:
3 cups rolled oats
1/2 cup salted sunflower seeds
1/2 cup uncooked millet
1/3 cup of melted coconut oil (I like to use the virgin, unrefined stuff)
1/2 cup maple syrup (use the real deal stuff, not pancake syrup) or agave syrup
1/2 teaspoon cinnamon
1 1/2 raisins
Directions:
Toss together oats, seeds, and millet and set to the side.  Stir together the oil, syrup and cinnamon and toss with the oat/seed mixture until fully coated. Bake 40 minutes at 300 degrees, tossing mixture every 10 minutes.  Remove from oven and then add the raisins.  When cooled, store in a cool, dry place in a glass or plastic container for up to 2 weeks (if it lasts that long!!).  Serve with Greek yogurt and banana or apple for a great breakfast.