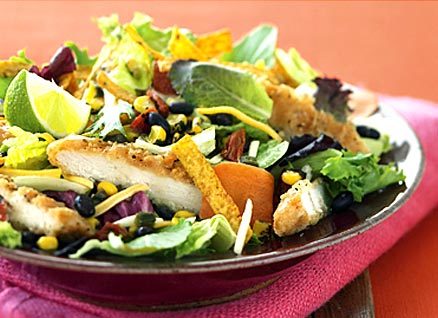 So, it's holiday vacation time! Are you traveling or just trying to entertain your children with some after-Christmas errands? If so, there's most likely at least 1 time that you will need to stop for some fast food, but never fear! There are ways to enjoy fast food when making easy swaps for healthier meals! Here are 4 swaps to try out!
The craving: Chicken tenders and fries
Swap out with: a Power Med chicken salad and a Frosty
Power Med Chicken Salad: 480 calories, 17 g fat, 29 g carbs (4 g fiber), 43 grams protein
Frosty: 340 calories, 9 g fat, 5 g protein, 56 g carbs (3 g fiber)
The craving: a giant turkey sub with mayo
Swap out with: a Rotisserie-Style Chicken Sub: 350 calories, 6 g fat, 5 g fiber, 29 g protein.
The craving: a Big Mac and a soda
Swap out with: a Southwest Salad with Grilled Chicken: 350 calories, 37 grams protein, 27 grams fiber, 11 grams of fat
The craving: a roast beef sandwich and a Coke
Swap out with: a Turkey Gyro: 470 calories, 20 grams fat, 3 grams fiber, 28 grams carbs, and 25 grams protein.