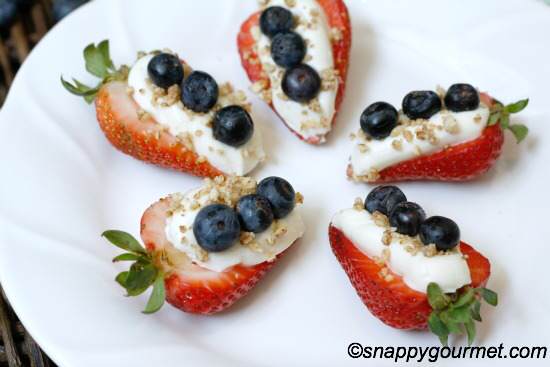 Celebrate Independence day with these healthy and patriotic recipes.  From breakfast to dessert and everything in between, these red, white and blue recipes will be an all American hit.
Red White, & Blue Cheesecake Stuffed Strawberries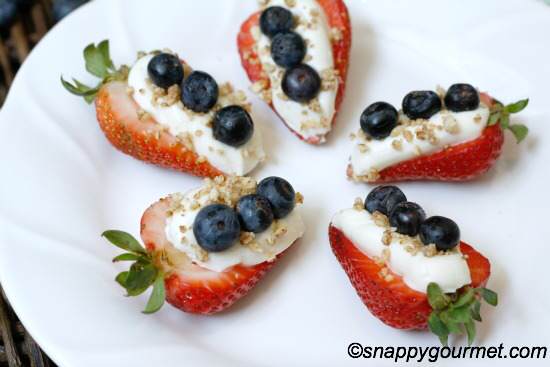 Read more at: http://snappygourmet.com/red-white-blue-cheesecake-stuffed-strawberries 
Serves: 24 stuffed strawberries
Ingredients
1 (8oz.) package cream cheese, softened to room temperature

¼ cup granulated sugar

2 tablespoons Amaretto (or 1 teaspoon vanilla or almond extract)

12 large strawberries, cut in half

¼ cup finely chopped almonds (or graham cracker or cookie crumbs)

72 small blueberries
Instructions
In a small bowl, mix together softened cream cheese, sugar, and Amaretto (or vanilla or almond extract) until well combined.

Spoon filling into a small ziploc bag, seal bag, and cut off one corner of bag. Pipe filling on top of each strawberry half.

Sprinkle almonds (or graham cracker/cookie crumbs) on top of filling. Top each strawberry half with 3 small blueberries. Store in refrigerator.
Patriotic Watermelon & Feta Flag 
Read More At: http://wenderly.com/patriotic-watermelon-feta-flag/
Ingredients
Half of a seedless watermelon

8 ounces of feta cheese

1 pint of blueberries
Instructions
Cut and cube half of a seedless watermelon.

Cube 8 ounces of feta.

Rinse off 1 pint of fresh blueberries.

Pour blueberries into a bowl, preferably square and place in the top left corner of a rectangle (or oval) platter.

Assemble watermelon and feta into rows, starting with the watermelon  

                                                                                                             
4th of July Toast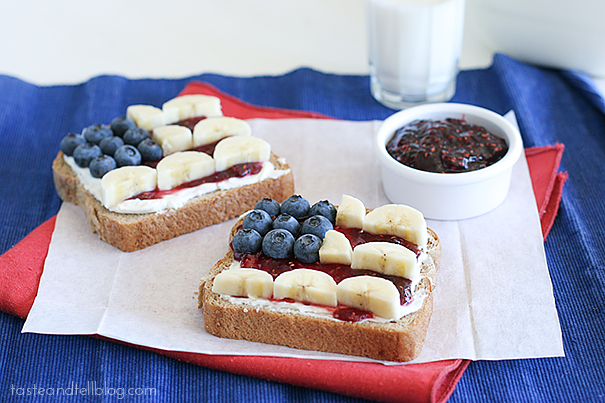 Read more at: http://www.tasteandtellblog.com/4th-of-july-week-4th-of-july-toast/
This is another one that basically doesn't require a recipe – just a guideline. Take a piece of toast, and slather it with cream cheese. Then add a layer of strawberry or raspberry jam on top. Create the star corner with blueberries, and the stripes with bananas. A delicious, healthy and patriotic breakfast!!
Red, White, and Blueberry Turkey Burger Sliders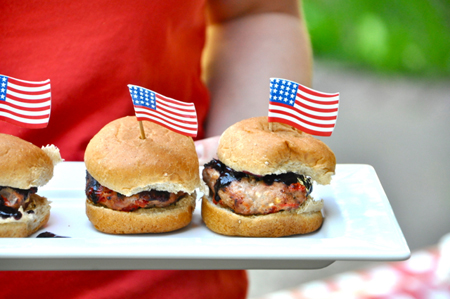 Read more at: http://www.dietsinreview.com/diet_column/05/red-white-and-blueberry-turkey-burger-sliders-recipe-for-summer-cookouts/
Ingredients
   1. 1 pound ground turkey
    2.   1 red bell pepper, roasted and chopped
    3. 1/4 cup reduced-fat feta cheese
    4. whole wheat slider buns
    5. 1 tsp. coriander
     6. 1 tsp. cracked black pepper
Add all ingredients in a bowl and fold until well combined. Form six to eight small patties. Place on a low-to-medium heat grill for about 5 minutes, then turn and cook about 3-5 more minutes. Place each patty on a slider bun and top with the blueberry balsamic reduction. Serve and enjoy!
Ingredients for Blueberry Balsamic Reduction
    1. 6 ounces fresh blueberries
    2. 1/8 cup balsamic vinegar
    3. 2 packages Truvia
Muddle the blueberries over medium heat in a sauce pan until completely broken down and the juices start to bubble. Add the balsamic vinegar and Truvia. Watch closely to prevent burning and keep stirring until it thickens.