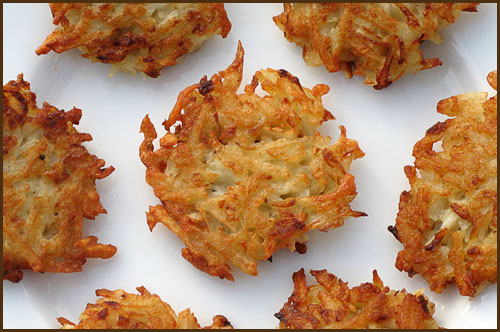 Food that is served at Hanukkah festivities tends to be a little on the heavier side since most of the items are friend in oil, but there are a few small tweaks that can be made so that some of the items are just a little healthier!
Our kid friendly Easy, Low fat Latkes, courtesy of our regional sponsor Giant and Martin's food stores is the perfect addition to your regular holiday traditions!
Ingredients
4 cups pre-shredded potatoes or 4-5 peeled, grated potatoes
¾ cup finely chopped onion
¼ cup all purpose flour
1/8 tsp salt
1/8 tsp black pepper
1 large egg
1 large egg white, lightly beaten
1 tsp oil
Steps
ADULT: Set oven racks at middle and lower positions, preheat oven to 450F. Prepare 2 baking sheets by covering with foil and spraying with non-stick cooking spray. Also chop the onion.
CHILD: Measure grated potato, chopped onion and flour and put in mixing bowl. Measure and add salt and pepper. Using 2 forks, toss mixture to mix well.
ADULT: Crack eggs and separate one of them.
CHILD: Pour eggs into potato mixture. Measure and add oil. Toss again to mix.
CHILD AND ADULT: Drop rounded tablespoonfuls of the potato mixture onto the prepared baking sheets and press lightly to form cakes.
Bake 10 minutes, or until golden brown on the bottom.
Turn the latkes over, switch the position of the baking sheets and bake for about 5 minutes longer, or until golden brown.
Transfer to a platter, arranging the latkes browned-side up, and serve.
(May be prepared ahead and stores, covered, in the refrigerator overnight. Reheat at 350F for 10 minutes.)
Makes 16 latkes.