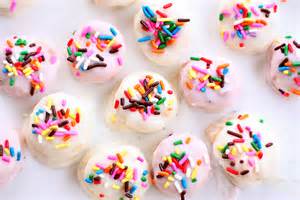 The days are starting to cool down a teeny bit, but after a hard race at HKRS your kids will still want a sweet, cold treat.  Ditch all the fat, sugar, and calories in ice cream, and try these super-easy frozen Greek yogurt bites instead! They will provide much needed protein for muscle recovery, probiotics for healthy tummies, and they're a fun snack that you won't feel guilty about!
What you'll need:
1 Large container of your family's favorite flavor of Greek yogurt
1 Large zipper freezer bag
1 Cookie sheet lined with wax paper or parchment
Your favorite toppings (mini chocolate chips, coconut, mini sprinkles, etc.)
Directions:
Stir up your yogurt to incorporate any liquid.  Pour the yogurt into the zipper bag, push out excess air and seal.  Cut a small corner off of the bottom of the bag.  Make small dots (about the size of a nickle) of yogurt on the lined cookie sheet.  Top with whatever you have chosen, and freeze for at least 2-3 hours.  Serve in small cups as a finger food, but keep any extras in the freezer!