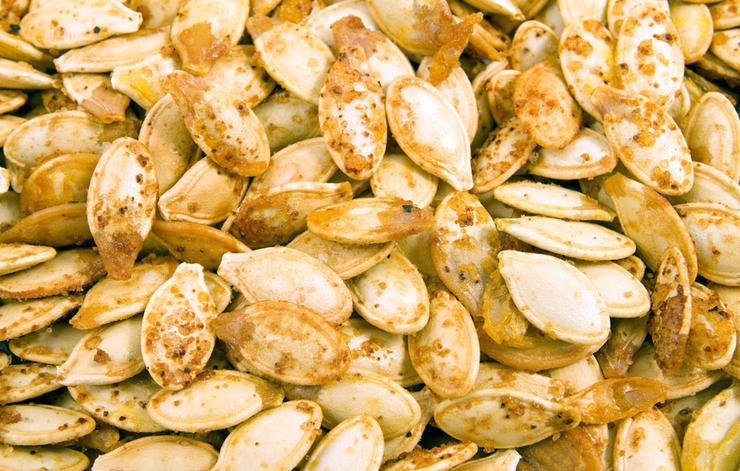 Roasted pumpkin seeds are a great way to make your jack-o-lantern do double duty this Halloween.  Not only are they delicious and an easy fun snack that your kids can help make they are high in protein, iron, zinc, and magnesium, and rich in ALA, an omega-3 fatty acid.
Here's how to roast them:
Wash seeds off and spread them out in a single layer in a baking dish or pie plate; bake in a low oven (250 degrees) for 15 to 20 minutes, or until well dried.
You can also drizzle them with olive oil and broil with a dusting of salt and pepper- but beware, they can go from delish to burnt to a crisp in a short amount of time so keep your eyes on them!
Or, you can try this awesome and kid-approved recipe courtesy of Rodale's Organic Life!
Maple Pumpkin seeds
Prep time: 5 minutes
Cook time: 15 minutes
Total time: 20 minutes
Servings: 16
2 cups raw pumpkin seeds
2 tablespoons pure maple syrup
1½ teaspoons kosher salt
½ teaspoon paprika or cayenne pepper
1. Preheat oven to 425 degrees.
2. Toss all the ingredients together in a bowl until seeds are well-coated. Transfer the seeds and any liquid to a parchment-lined baking sheet. Pat into a single layer. Toast until the seeds are golden brown and aromatic, 10 to 15 minutes. Let cool. Seeds will keep in an airtight container at room temperature up to 5 days.