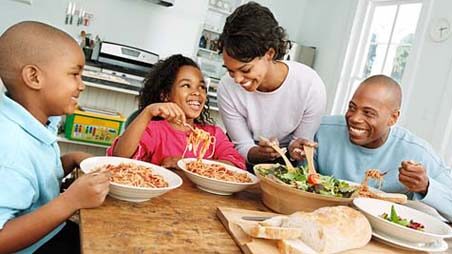 Every family I know tends to struggle with mealtime.  Weather it's finding time to actually sit down together, or menu planning, it can be a real issue.  One of our new year's resolutions has been to do a better job of meal planning and execution so we aren't relying on pulling something from the freezer or stopping for take out on our way home from work.  After a lot of research I found these 4 tips are especially helpful to help me prepare a supply of 'real' food for my family for weeknight meals.
Write down your planned meals for the week.  This will make it easier for you when planning your shopping list, and keep the guesswork at a minimum.  It can also help your kids make lunch time decisions at school.
Allow for time adjustments.  Once per week one of my kiddos has practice beginning at 6:30, so that night we have to eat early in order to get him dressed and on the road in plenty of time.  Instead of planning a big sit-down dinner, we have something lighter like soup and sandwiches and then opt for another healthy snack when he gets home.  It's a good way to make sure we are still spending a little family time, but just splitting it up over the course of 2 mini-meals.
Cook during the weekend and use a crockpot! The weekends have now become time to meal prep for our week- we grill chicken, roast veggies, and make up a big pot of rice or quinoa.  This allows us to put some great stuff on a plate and re-heat rather than cooking items in the evening. Crockpots are also a lifesaver! It's a great way to toss everything together for a meal at a later time.
Be realistic.  Illnesses, unexpected meetings, and emergencies are just part of life! At our house we always write down our meal plan for the week, but there's always an extra back stock of soup and other items that can be quickly prepared.  Look for organic and minimally processed items to keep the time factor in check while offering a healthy meal.