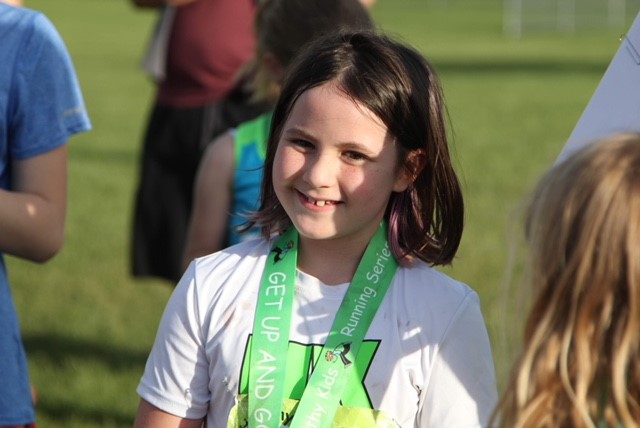 Bella is always on the move. Whether she is outside in the yard, or in the house, wherever she is going, she runs.  On family walks, her parents sometimes must tell her to slow down because it can be hard to keep up.
Naturally, when Bella and her family found out about Healthy Kids Running Series in Harrisburg, Pennsylvania, they jumped at the chance to sign her up.  This would be a great way to introduce her to racing and give her an outlet for her endless energy!
When the first race came around, it was a frigid early spring day.  Bella struggled, and her mother was afraid that she may not want to return.  But, Bella did not give up, and she was ready and determined to get back on the starting line for week 2.
Ignoring her place in the race, each week Bella purely focused on improving her time from the previous one.  This spring threw every variety of weather at the northeast, and through all of it, Bella managed to drop her time each week for a total of two and a half minutes by week 5!  She never stopped pushing through to the finish line, no matter how cold it was, or how muddy the fields were.
When the Series had ended, Bella was an obvious choice for the Healthy Kid Award!  She was so excited, and this fall her younger brother will get to join in on the fun with the 50 yard dash.
Bella and her family are constantly outside, playing games, having fun in the sprinkler, running, gardening, and doing arts and crafts.  But, Bella also enjoys reading, drawing, and coloring.  She cannot wait to get back on the race course in the fall, this time joined by her brother!
Great job Bella and congratulations!!