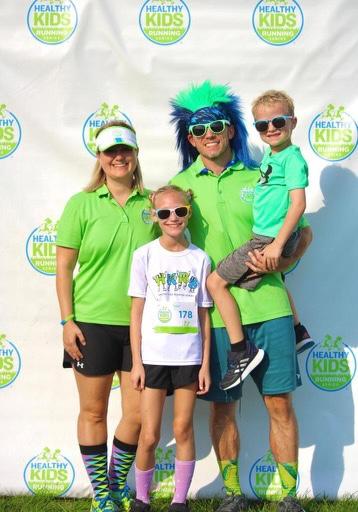 Jeff and Jena Shontz – HKRS Boyertown, PA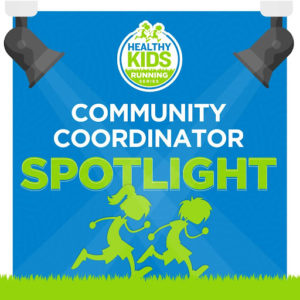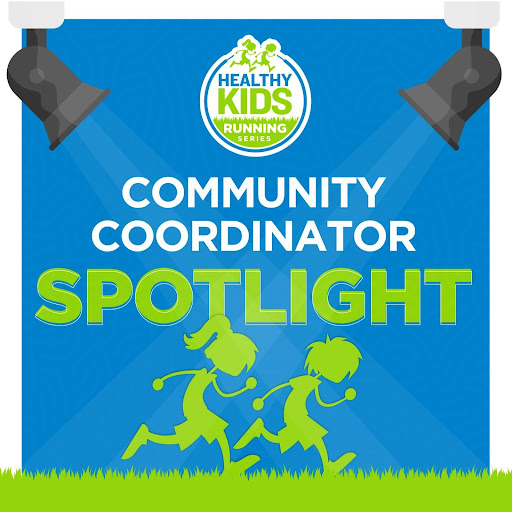 WHAT'S A GREAT MISSION MOMENT YOU'VE EXPERIENCED AS A CC?
We have experienced so many mission moments over the years with kids cheering each other on, the excitement of kids improving their time each week, and the amazement of parents with how much their children accomplish. Our favorite moment overall has to be a boy who ran in our ½ mile race. The runner was born premature and only had one lung. His family was so appreciative that we offered this program as he had difficulty participating in other sports programs. The young boy showed up each and every week and always tried his best. He didn't care how far behind he was, he was just focused on finishing the race. The spectators would cheer so loud as he came through the finish line and he would be so happy. He improved his time every week and had the most positive attitude. He won the Healthy Kids Award that season because he exemplified exactly what we are all about at HKRS.
WHY DO YOU LOVE HEALTHY KIDS?
We love Healthy Kids Running Series because we have a BLAST!!! We really do have so much fun interacting with the kids, doing theme weeks, and getting to spend time with the families. We love being involved in the community and love to offer opportunities for children to be active and have fun. We have become a community "event" that people look forward to signing up for each season. It is such a great feeling to walk around town, or go to other community events, and have families come up to us and tell us how much fun they have with HKRS. We often refer to our participants as our "HKRS Family" because we have created such a bond with the children and parents over the years. We want kids to see being active as a fun activity and not a burden. We see kids return each season and get to watch them grow, improve, and gain confidence. There are not many programs available for the 2-5 yr olds in the area and we love that HKRS gives the opportunity for the younger kids to be involved.
WHAT ARE YOUR GOALS FOR THE LOCAL PROGRAM?
As the Community Coordinators for the Boyertown series, we strive to create a positive, fun, and family-friendly atmosphere. It's important to us to create positive memories for kids to look back on and use as they continue through life. We would love for our series to grow to more than 400 runners! Each season we continue to grow and can't wait to see how many runners come through our program. The past 6 years have been amazing and we plan on being coordinators until our youngest ages out of the program…10 more years J We want to become an event that everyone in town knows about, an activity that is on everyone's "must-sign up" list, and be positive role models for everyone. We also want to continue to build relationships with the small business in the community. We have such amazing sponsors and we hope to continue those relationships each season.
COMMUNITY/SERIES FUN FACT: 
Boyertown's mascot is the Bear. Throughout the town of Boyertown, there are over 70 Bear statues. Local businesses also have smaller bears they display in their windows. Each bear is painted to reflect the businesses. In 2019, we were able to get one of the small bear statues. We had a local artist paint the bear in the Healthy Kids colors and then we held a contest with the running series kids to name the bear. After 50 submissions, we chose Dash as the name of the bear. Dash sits at the finish line for each of the races and watches all the kids as they finish their races.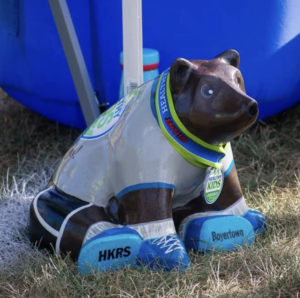 FUN FACTS ABOUT US:
We are new owners of a CrossFit gym! Jeff coaches CrossFit classes and SWEAT classes. Jena manages all the behind-the-scenes operations of the gym. We have a Kids CrossFit program that is growing like crazy. We have several HKRS runners doing the Kids CrossFit classes and it is so much fun to see them working on their strength during the HKRS off-season. Jeff also heads up the annual Thanksgiving Day Turkey Trot 5K in our town and helps with the annual Wellness Fair. We also host foreign exchange students each year in our home and help place students with American host families in our area. Hosting is such a rewarding experience and a big part of our lives. We are parents to a 10 yr old daughter and a 7-year-old son that keep us on our toes. Our daughter has participated in all 12 seasons of HKRS Boyertown! We love being busy and love being a big part of the community!