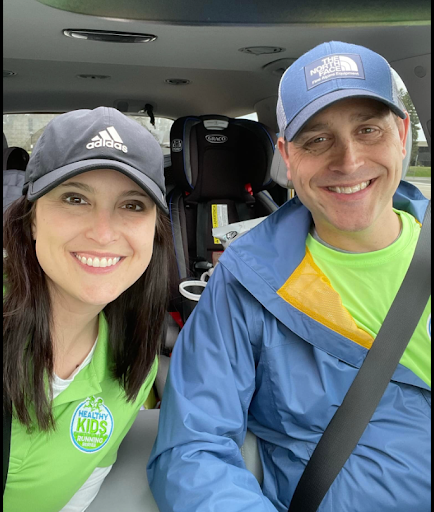 Jennifer Knapp, Community Coordinator of the Eden Prairie Minnesota program exemplifies all the qualities of a leader! She is a go-getter, kind, patient and supportive! She has been a Community Coordinator since Fall of 2021 and has grown Eden Prairie each season, touching the hearts of all of the families in her community. 
Most recently, Jennifer has partnered with Susan G. Komen, Race for the Cure non-profit organization. Susan G. Komen has invited Jennifer and all Minnesota races to join their event this Mother's Day offering all HKRS participants a $5 discount to their race! 
We are so lucky to have you Jennifer, thank you for all that you do!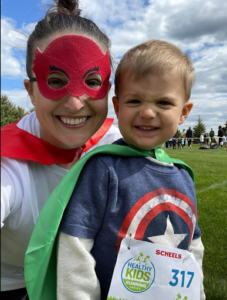 Check out what Jennifer has to say about being an HKRS Coordinator!
What's a great mission moment you've experienced as a Coordinator? 
"This is a tough one as I feel like there are so many, but one of my favorite mission moments was when we awarded a young man the Healthy Kid Award in the Spring of 2022. After the fourth week of series, he knew he wasn't going to place in the top three, but was still going to stay for the award to cheer on his fellow participants. As he finished his final race, I leaned over to his father and said, "I've been so impressed by the sportsmanship, dedication, and positivity of your son (he always has a smile on his face and is having fun) that I would love to award him the Healthy Kid Award for this series so please make sure you are here for that portion of the ceremony. His father was so excited and you could see on his face just how proud he was of his son. As the ceremony came and we announced his name – his look of shock was priceless. He ran down to the stage beaming with pride as he accepted his trophy, and certificate and took his picture in front of the crowd."

Why do you love Healthy Kids?
"I love Healthy Kids for its inclusivity. You don't have to be a competitive runner or future Olympian to enjoy the race and if you need extra assistance down the course then we have the Challenger course. We strive to provide a positive and welcoming atmosphere, so no matter the exposure to running they've had, they can enjoy the experience while learning the foundations of running. Run, Walk, Crawl all the way!"
What's your goal for the local HKRS program / your community? 
"Oh, I have so many goals, some more tactical, some more pie in the sky that will take a lot of partners, patience, and participants. All that aside, my goal is for the organization to be a household must-register activity. I want it to be known not only for its foundational running experience but because we are providing a fun, a light-hearted experience where kids can come as they are and be proud of their accomplishments while meeting some new friends along the way. I would be remiss if I didn't mention that I want to grow the Eden Prairie program to 300-400 participants per season….but things take time. :)"
Fun Fact!
"I'm a huge mental health advocate due to my own challenges with mental health over the years (i.e., anxiety, OCD), and unfortunately the loss of some loved ones. This year, I started on the Board of Directors at the National Alliance of Mental Illness (NAMI) Minnesota chapter to help those who may not be able to have a voice the space to speak about their challenges and to know they're not alone. I try my best every day to teach my two little boys that their mental health is just as important as their physical health – and that I am here to help them maintain both!"