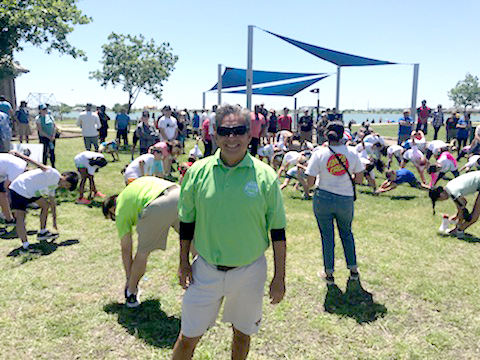 Ray Trevino – HKRS Pflugerville, TX

What's a great mission moment you've experienced as a CC?
There have been many great moments and they are because of the kids. The first race weekend really stands out because of the planning, coordination, and meetings, that it took to get to that point. The parents and kids were so much fun during the packet pick-up and then seeing those kids the next day in their shirts with so much joy in their faces, and Moms and Dads just being excited to see their kids starting this Healthy Kid program. It all came together!!!
Why do you love healthy kids?
I love healthy kids because it stands for something much more than just running. Even though running is a big portion of it, it is beginning to keep young bodies fit and healthy. 
What are your goals for the local program?
My goal is to get the word out to all the schools, public and private, organizations, etc,  that there is a running alternative here in this area besides the very competitive AAU running programs. This program can keep growing with the help of the city officials to let us continue using the city parks that are available and to offer Moms and Dads a great option.
Fun fact about you, the series, or the community.
I have been a runner my whole life and ran my first full marathon in the eighth grade in 1968. I have run at least one marathon in every decade since the 1960s. 
We moved to this community a year ago and were looking for a running program for my 9-year-old, Pflugerville did not have one so we ran in Round Rock, Texas last fall and that is when I found out about this wonderful program, and started the whole process of getting the program here. Pflugerville is a great little town, with quirky pronunciation, anytime a word starts with "F" we put the letter "P" in front. example-Family becomes Pfamily- fine becomes Pfine, etc.