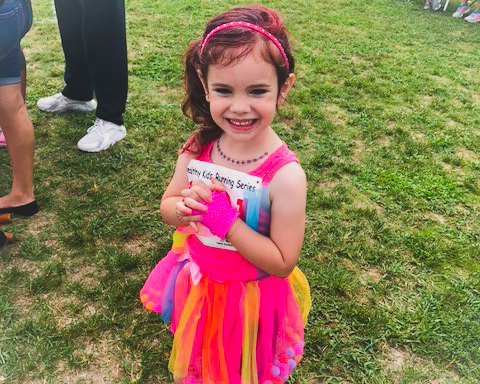 Maybe the most beautiful part of the Healthy Kids Running Series is that there is a place for everyone at our races.  No matter your size, your speed, your athletic ability, or your competitive spirit, everyone fits right in.  It is not a popularity contest; it is not 'win at all costs.'
Healthy Kids is just some good ol' fashioned fun, and our runners get to learn all kinds of things in the process, even if they do not realize it: that active lifestyles are fun, they build confidence, and they are a great way to meet new friends!
The Miami Series is one of our best representations of our program.  On an April Sunday, you can find Tamiami Park decorated in festive Miami Colors, and children of all ages dressed in fantastical outfits, their hair sprayed red, running across the fields with joy all over their faces.  Ella is one of these kids, having some of the most fun out of anyone that shows up!
When asked what her favorite part of the series is, Ella simply says: Running!  Well, we love that answer, Ella.  When she thinks about the races, she remembers how awesome it was when she first saw all of the kids at the park, meeting new friends, and getting to run as fast as she could alongside the others.  She remembers meeting Ms. Nathalie, the amazing coordinator for the Series!  And although she may not realize it yet, hopefully this collection of memories will be part of what helped her to realize that staying active and healthy can make life full of fun!
Ella already knows what it means to be healthy: her favorite foods are the fruits that she eats everyday, and she loves to ride her bike after school where one of her favorite parts of the day is playing on the playground.
Ella even wants to be a nurse when she grows up, so that she can keep others stay healthy, especially by 'giving them flu shots.'
Healthy runs in the family for Ella: her brother has come to all of the races and cannot wait to run in his first this very April!  Mom, JoHannah, will even be running in the Parents Mile this time around!!
Thanks for being so awesome and showing us what it means to be a Healthy Kid, Ella! You Rock!!