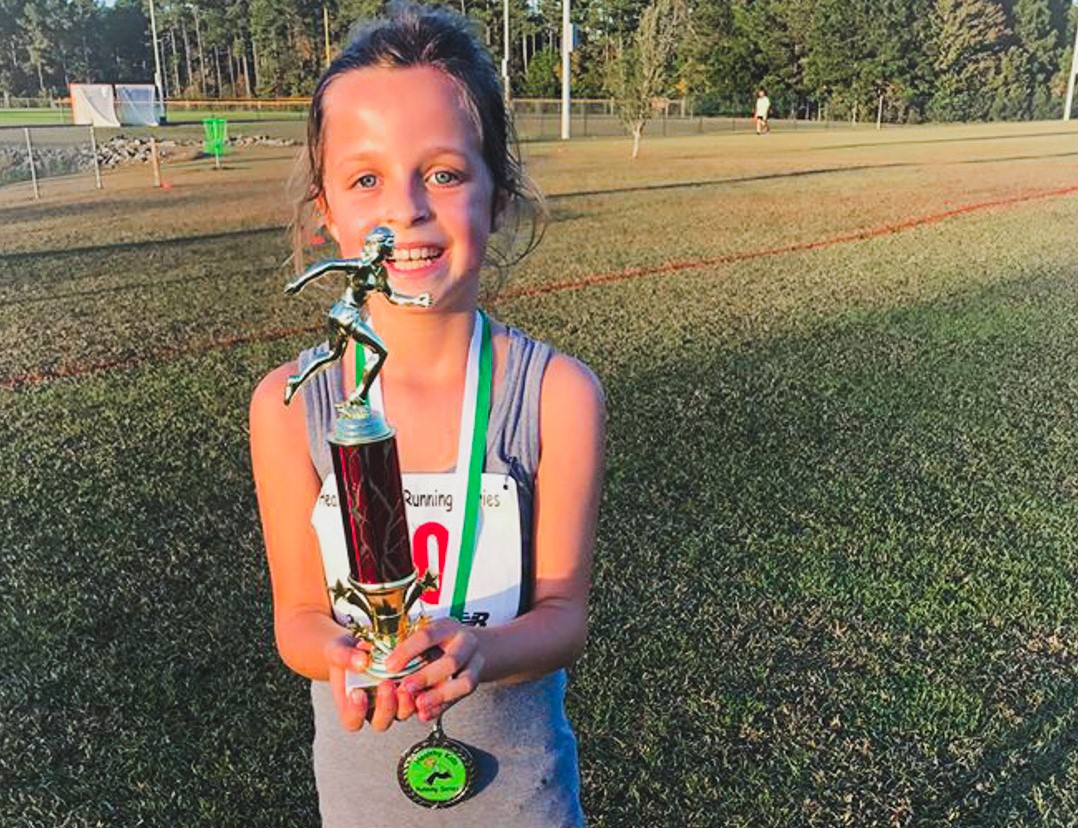 This week's Healthy Kids Spotlight is Kinley from the Morehead City HKRS Series!!  She took home first place honors in the half mile distance last fall. Check out as clip of her win in the final race:
We are highlighting Kinley not only because she is a fantastic runner, but also for her stellar attitude and tendency for caring for others, staying active and healthy, and having tons of fun!
We sat down with Kinley and her mom Kelly to find out all about why Kinley loves Healthy Kids and to find out a little bit more about her.
Kinley got into running and the series after some encouragement from her mom.  She says that she loves the challenge of pushing herself in the races and seeing how fast she can go.  Every Sunday, she can also be found helping out during the races for the younger divisions.  Her community coordinator, TaSheena, loves to highlight her selfless nature!
When she started HKRS, Kinley never thought she would win, so she was surprised when they announced her name as the champion of the entire 5-week series!  She could not believe it because all of her friends that she had been racing against were such stiff competition!
It is incredible how Kinley is able to see her performances at Healthy Kids  as part of a bigger picture at such a young age: she attributes her love for the Series to a desire to always get better every time she goes after her goals.
Aside from running, Kinley enjoys a whole slew of other sports.  One of her favorites is tennis, and she goes to a tennis camp every summer.  She also plays soccer, and she just joined a swim team.
Kinley also has a bunch of hobbies that she loves to do, especially when the weather gets warm.  She enjoys roller skating and biking near the beach where her family lives. She especially loves to hangout on that beach with her family during the summer, playing in the sand with her brother, Kyle, and their dog, Indy.
She even decided to combine some of her favorite activities together and compete in her first triathlon last June!  As a third grader, Kinley is well on her way to becoming a great athlete, but she is also an awesome student, excelling in reading and drawing.  WOW! Kinley really is amazing.
You might also call her a bit of a daredevil: recently, she rode the daunting Tornado Twister Water Slide at Great Wolf Lodge and the Busch Gardens Roller Coaster the Verbolten in the same day!  She must have a knack for theme parks, because when she grows up, Kinley wants to become an Imagineer at Disney World, designing attractions for the park.
Kinley is super excited to compete in the 1/2 mile races once again this Spring.  We cannot wait to see you out there!  Thanks for sharing your story, Kinley!