The video below, by Solar Flight Productions highlights the friendship between Kenneth, and La'Ron, two of the HKRS Belton Runners.  Watch to find out about their incredible actions and kindness in the face of competition:
---
The piece below was written by Jenny B. Hartsock on April 22, 2018:
Military children are recognized throughout April by the Department of Defense for their strength and their sacrifices. The Fort Hood, Texas community has thousands of military children, and we applaud them for their sacrifices and for all of the challenges they overcome.  One such child, La'Ron, a 5th grader at Clear Creek Elementary School in Killeen, Texas, recently caught the attention of the Central Texas community. La'Ron is a military child whose father recently returned from Korea after an unaccompanied tour as an infantryman assigned to 1-9 Cavalry.
La'Ron is a member of Healthy Kids Running Series, which is a five-week running program hosted in the spring and fall for children Pre-K to 8th grade. Each Race Series is hosted once a week and offers age-appropriate running events. As a 5th Grader, La'Ron competes in the one-mile distance. Ultimately, Healthy Kids Running Series provides a fun, yet competitive environment that promotes, health, fitness, and self-esteem. The program also encourages children to make new friends.
La'Ron is a gifted runner. In the summer of 2017, he competed in the Games of Texas at McAllen Veterans Memorial Stadium where he ran the 1600 meter run in six minutes on the track. Today, on April 22, La'Ron achieved a personal record of 5:55 for the mile run and placed first overall in Healthy Kids Running Series, Belton for boys in 4th and 5th grade. As a runner in the series, he has won every race. But today, he did not want his trophy.
Instead, La'Ron wanted to give his trophy to Kenneth, another competitor. While other competitors discouraged La'Ron from winning, Kenneth emboldened him. Kenneth introduced himself to La'Ron, asked to be his friend, and told him that he hoped he won. La'Ron shared with his mom, Cecelia, that Kenneth deserved his trophy. As one of five military children, La'Ron is no stranger to sacrifice.
I, too, was a 'military brat,' and at an early age, I learned that no matter where we moved, I always had running. Running meant exploring my community. Running meant an opportunity to meet new friends. Running meant an athletic opportunity, no matter if I had missed tryouts. Running meant a healthy body and a healthy mind. And now that my two boys are military children, facing their fifth move in four years, I hope that they use running as a catalyst for some of those same values.
After the last race today, The Healthy Kids Running Series recognized both La'Ron and Kenneth for the Healthy Kid Award: for exemplifying the positive attitude and personal improvement that are the founding principles of the program. As a mother with two boys in the Running Series, I could not have been happier that this act of kindness was demonstrated for my boys to witness, first-hand.
We can all learn from Kenneth and La'Ron. Kenneth was prudent, using discernment to choose right by encouraging La'Ron. La'Ron demonstrated fortitude, showing courage, endurance, grit, and resilience.
I encourage all parents to check out Healthy Kids Running Series. With over 200 locations in 32 different states, see if there is a location near you. I especially encourage military families to get involved with Healthy Kids Running Series, and as the program continues to expand, perhaps the next duty station will offer a Series in your community, significantly helping children with what can be a tough transition into the unknown. Or even join the team by becoming a Community Coordinator and starting a national, community-based-non-profit in your town!
Jenny was an 'army brat' and now serves as a Major in the Virginia National Guard. She and her husband have a seven-year-old son and recently finalized the adoption of a 12-year-old boy. Jenny received her undergraduate degree from West Point and received a Master's of Science from Kansas State University. Jenny and her family have moved four times in the past four years to four different states and are facing another move (to another state) next month. Jenny is an overly caffeinated, dark chocolate with sea-salt enthusiast and claims her hometown as Springfield, Missouri.
---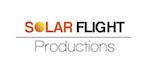 From their Website: Solar Flight Productions is founded on the idea that content creators can (and should) create content with extremely high standards. These standards should go beyond the beautiful imagery and great sound – they should extend to the actual content. It's time for content that tackles the heartbreaking, touching, and hilarious without the need to stray into the perverse.
​