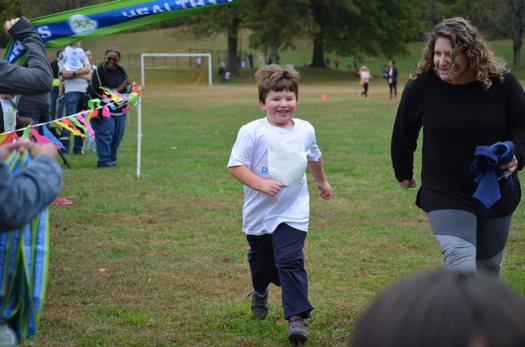 From Katie Bailey: (Coordinator)
Some kids wear their hearts on their sleeves.  Healthy Kids in Rockville, Maryland was blessed to have many joyful kids racing in our Fall series.  One of the brightest stars, however, was a boy with a can-do attitude by the name of Gavi Tinsley.
As soon as Gavi arrived on the scene, there were smiles.  As a race coordinator, as soon as I'd see Gavi, a feeling would wash over me that was akin to, "Look how happy this kid is…this is why we do this series."
Gavi participated in the quarter-mile race.   This race is for kindergarten and first grade boys.  For Rockville, that race includes some rolling hills also.   Let's be clear–runners at any age know that running the equivalent of a lap around the track at your best pace is no small feat.  It's hard.  Four-hundred meters is a real distance–it takes effort.  And for Rockville's Fall 2019 series, this was also the most challenging race to enter.  This season, Rockville had…wait for it….37 boys enter this division!  The starting line went on forever.
Getting lost in the shuffle of 37 boys would have been so very easy, but Gavi instead shined.  Gavi never gave up.  He finished all his races.  He finished all his races with the biggest smiles…he raced to the finish line with his mom, Jennifer, by his side as his number one fan…and with the community giving him the biggest cheers.
This really is what Healthy Kids is all about–effort, joy, growth, and community.
HKRS-Rockville thanks Gavi for his can-do attitude and all the memories he gave us this season.
From Jennifer: (Mother)
On the way to the first race day, I was telling Gavi how proud I am of him and that the most important part of a race is finishing. He said, but you will be more proud of me if I am the fastest. I told him I would not be. This surprised him. I explained that I would be proud of him if each week we showed up, ran the race and finished. If he was first or last runner would not change how proud I felt of him. This became our weekly manta (as he was always the slowest kid). Each week before the race we talked about the importance of showing up and finishing and how that is something important for him to know for everything in his life.
Then when I was explaining the health kid reward to him, that he got it because he finished each week with a big smile, he said, "Of course I did, everyone was always cheering for me at the end of the race!"
HKRS has been a great experience and I am very proud of Gavi.