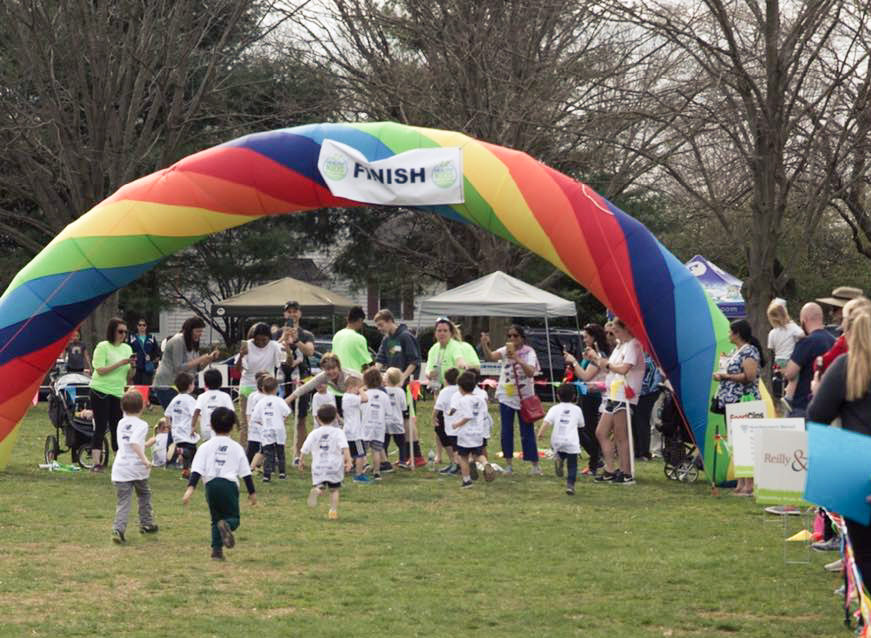 The Princeton Junction Series kicked off for the first time this past Sunday with some terrific weather in central New Jersey.
Over the past few years, New Jersey has become a hot bed for Healthy Kids Running Series, and Princeton Junction found its stride quickly, jumping out of the gates with 225 participants in its first ever race!
Marissa Hine is a first time Coordinator for HKRS and she put on an amazing event complete with a rainbow finishing arch to the excitement of the racers!
The race saw some fast times with the winners of week 1 in their respective events below (Full Results):
50 Yd Dash Boys:
A. Ponnamaneni
50 Yd Dash Girls:
P. Wiersdma
75 Yd Dash Boys:
G. Chait
75 Yd Dash Girls:
E. Ruppin
1/4 Mile Boys:
O. Reilly 1:25
1/4 Mile Girls:
M. Barnes 1:53
1/2 mile Boys:
D. Dodson 3:07
1/2 mile Girls:
C. Shemick 3:24
1 Mile Boys:
R. Kodiyalam 7:45
1 Mile Girls:
L. Ryan 8:21
The races are held at Chamberlin Park in Princeton Junction, NJ on Sundays at 4:00 PM.  4 more races will occur on 4/14, 4/28, 5/5, and 5/12.  To sign up click HERE.
Happy Running!