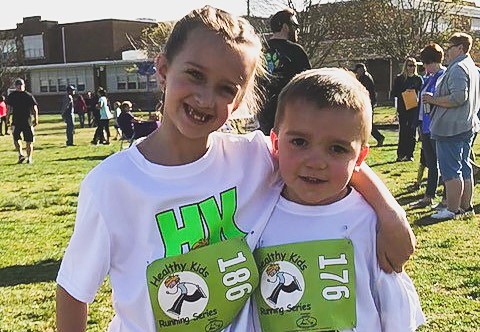 A lot of Healthy Kids Running Series is about service.  As a non-profit, each year money earned is cycled back through the program in a constant effort to enhance the experience that we can provide for our kids and families.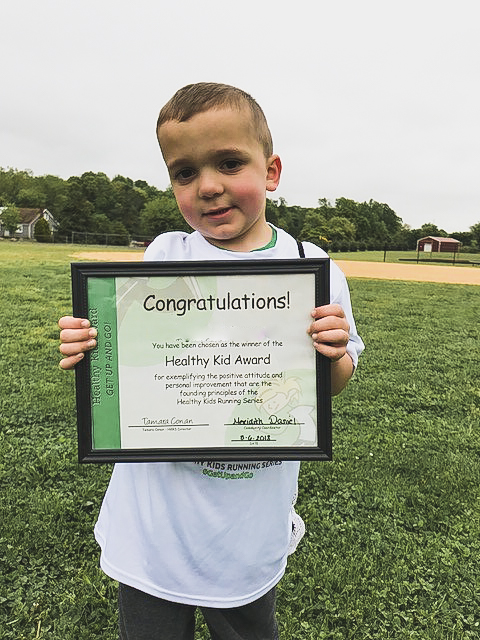 Because of this, our program has a strong reliance on volunteers.  They are the unsung heroes of HKRS, because without the extra help from parents, high school students, and community leaders, our Series would not be possible. It is always an honor when we hear from families whose experience has been positively impacted by a volunteer.
Logan, a 5-year-old in the Mullica Hill Series, made it through the races, improving each week, with a little help from a volunteer.
As a first timer in the Series, running for an extended period was a new concept for Logan, and it was a bit of a shock to jump right into the quarter mile distance.  Understandably, when he started out, he was nervous and unsure of this new experience.  A few tears may have even been shed.
But, then he met a fellow 'Logan' at the race.  This other Logan was a volunteer who had generously provided his time to help make a difference for the youth in his community.  Older Logan encouraged the younger every step of the way, helping to build his confidence and find purpose in his efforts each week.  Every race, and at every turn, the 'Logans' would never be found far apart, with the younger gaining strength each week and improving his time.
Meanwhile, one of Logan's best friends Gwen was competing in the 1st grade girls quarter mile.  Quickly noticing how much Logan was helped by the encouragement, she immediately jumped in on the action.  Each week, she would meet Logan at the final turn of the race and cheer him on all the way to the finish.
With the help of friends, both old and new, Logan finished the Series with a smile on his face, feeling happy and accomplished.  For many, their first athletic experience can be daunting, but hopefully most can come away from their first Healthy Kids Running Series feeling something different: positivity, joy, and an excitement for more.  A big reason this is possible is because of the community that our families, friends, coordinators, and volunteers create!
Congratulations to Logan for winning the Mullica Hill Healthy Kid Award and an even bigger congratulations for persevering to have a positive first racing experience!!
Logan is finishing his kindergarten year at Centre City School.  Some of his favorite activities include riding his bike and playing outside with his cousins and friends.  When he is not doing one of these, he also loves to play Mario and Minecraft.  His favorite food is Pizza.