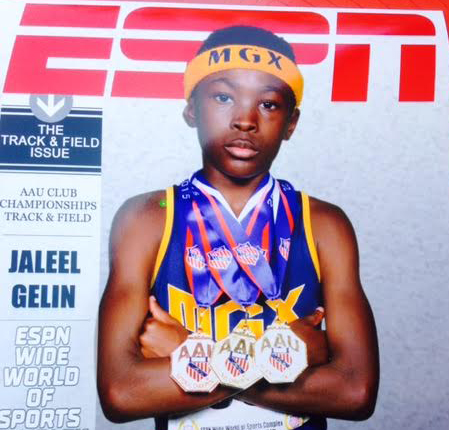 In 2015, Jaleel Gelin raced in the 4th and 5th grade age-group of our Miramar, FL series. His mile time of 5:59 on a tough Miramar course was fast enough to put him in the Healthy Kids Running Series Record Book. Still, Jaleel has his sights set on bigger records: national records. Last year, Jaleel also ran in the ESPN Nationals for Track & Field, and the AAU Junior Olympics. He was only 2 seconds off of the national record in the 800 meter race, which he won by nearly 3 seconds. He's set great goals for 2016 and will surely challenge the national records again – his goal for the 800 meter race would break the national record for 10-year-olds by 3 seconds!
Nicknamed "Superman," Jaleel sports Superman socks with red capes that show just how fast he's flying down the track. We're very excited to have such an incredible young athlete in our program and we're looking forward to see what Jaleel will do this year! You can watch a video of one of his races below, as well as read a short interview with him.
What are your favorite healthy snacks?
My favorite snacks are fruits, such as tangerines, apples, oranges, and grapes.
What is your favorite pre-race snack?
Blueberries.
What are your goals for 2016?
My goals for 2016 are to run:
400m in 58.00 seconds
800m in 2:15
1500m in 4:45
And to win the Junior Olympics.
What are your goals beyond 2016?
My goals beyond 2016 are to keep working hard and training smart and get the proper rest needed.
What was it like to win the 800m race at the AAU Junior Olympics in 2015?
It's very fun to run at the Junior Olympics, there's kids there we've been competing for the past 3 years against each other. My best race was the 800m final at USATF because I almost broke the national record.