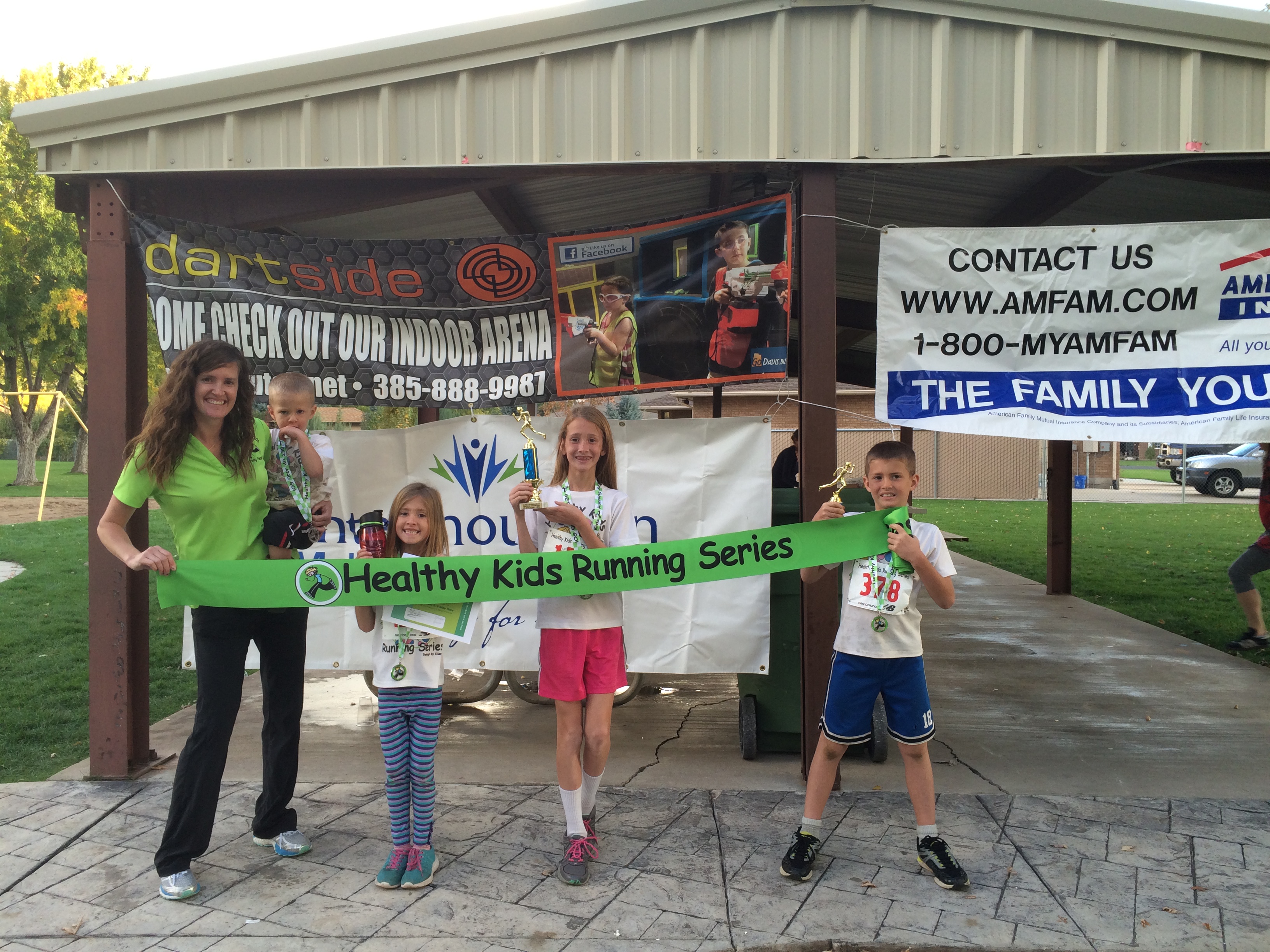 "Who are you?" What is your background with your family, community involvement, and running?
My name is Kristen Guymon.  I am a mother of four kids, in fact, last series I had a  child in each age group. I have a 5th grader, a 3rd grader, a 1st grader, and a preschooler. As a family, we love to go hiking, boating, snow skiing, and travel.  I went to Utah State University where I was an Ambassador and a member of the cross-country and track teams.  I loved running collegiately!  My favorite distance was the 1500m (which is a little shorter than a mile).  I loved that it was long enough to strategize, but short enough that you got to run FAST! Some of my 1500m accomplishments include: conference champion, runner-up at the NCAA regional race, and racing at the NCAA national championships. I earned a B.S. in Exercise Science and a M.S. in Corporate Wellness.  I also earned a certificate in Positive Psychology, and am an ACE certified Health Coach.  I love to help people make healthy choices.  Each year I help members of my community do this by volunteering as the city's Biggest Loser Competition coordinator.  I also am a B.S.A. cub scout den leader & love the scouting program. 
Why did you become a Community Coordinator? What drew you to start a Healthy Kids Running Series? 
Last April I ran the Boston Marathon!  Afterwards, I was looking through the magazine that was included in the race bag & I saw an ad about the Healthy Kids Running Series.  I thought "My kids would love this!"  When I looked online there weren't any series in my state and so I decided to bring the HKRS to Utah! 
How have you been impacted by starting a Series? 
As a mother of participants in the HKRS, I absolutely love this!  My kids love to play sports, but life can get crazy running kids around to different practices and games.  Whereas, with the HKRS once a week all the kids get to race at the same time and the same place!  It is a lot less stressful for me and my kids get to cheer each other on.  Over the course of the 5 weeks, I love seeing my kids improve and work hard. 
As the coordinator of the series, I absolutely love this!  Sometimes as a coordinator you don't get to enjoy the event because you are too busy with all the details.  However, with the HKRS I really got to enjoy the races and was able to cheer everyone on!  The local high school cross-country team volunteered as the "coaches" for the age groups. The high school kids loved being in charge & the participants idolized their Coach.  Having their help really eased the stress on race day.  I also had other great volunteers to help with the other "details" so that all I had to do was start the races and pull the race tags at the finish. 
The corporate staff of HKRS really does all the "hard" things for planning a series and are really helpful and thorough on explaining what to do.  Finding sponsors is usually my least favorite thing to do, but being a non-profit organization made this part easy too.  In fact, I even had businesses calling me to ask if they could be a sponsor!  Financially, it is awesome to be a community coordinator because twice a year you earn some extra money.  This fall I was able to pay for all our Christmas expenses with the money I earned (and it was my first series)!
---
If you would like to get in touch with Kristen, you can reach her by email at: kguymon@gmail.com.
Congratulations to Kristen on running in the Boston Marathon, one of the most difficult marathons in the United States!