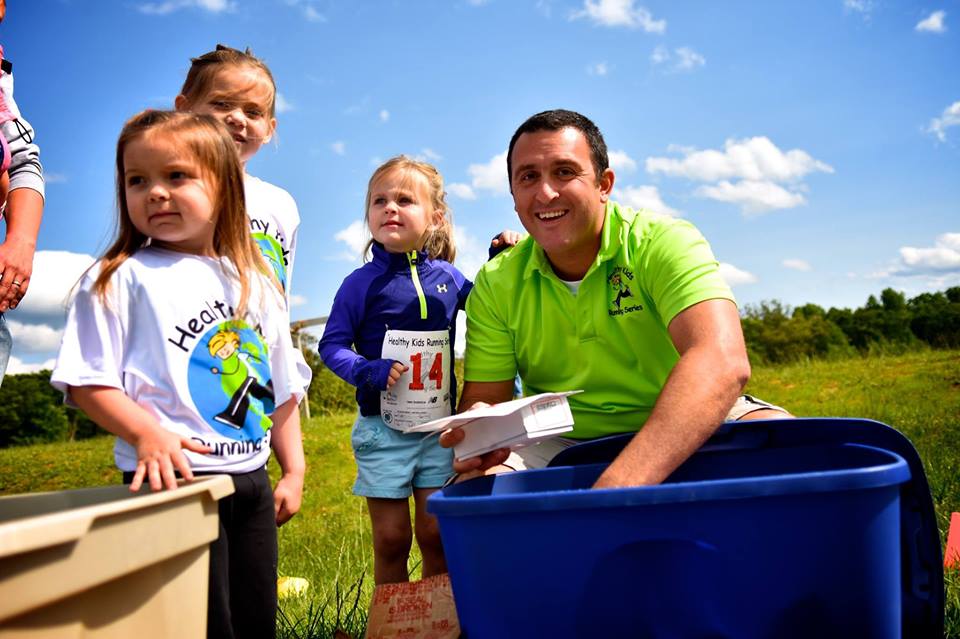 Today we are excited to recognize Locust Grove, Virginia's community coordinator, Daniel Cianci! This is Dan's first year running a Healthy Kids Running Series. He has gone above and beyond to make sure the series was a success while raising money for the Locust Grove Elementary School's, Parent and Teachers Association (PTA).
"Who are you?" What is your background with your family, community involvement, and running?
Dan is a father of three, who enjoys playing sports and is an avid runner (completed one marathon). Dan enjoys being active with his family and coached his children's soccer team for 5 years. His daughter even started her own running program during recess—the love for running really does run in the family. He also has nieces and a nephew that ran in the Central Dauphin, PA series.  Helping him run the Locust Grove Series is his wife Kelley, who is the elementary school's PTA's secretary.  Dan wanted to help Locust Grove Elementary PTA program since it is underfunded. He found out about Healthy Kids Running Series through the Home Owners Association and felt it would be a great way to bring the community together and raise money for a great cause.
Why did you become a Community Coordinator? What drew you to start a Healthy Kids Running Series?
Dan said he wanted to become a community coordinator "because this is a one of a kind program and there is nothing like this". He said there are not enough activities for kids in the Locust Grove area. He liked that Healthy Kids Running Series is not a substantial time commitment and doesn't require much experience like other sports. Dan also was also drawn to opening a series because he wanted to add something for children in the community to do that wouldn't break the bank.
How have you been impacted by starting a Healthy Kids Running Series?
Dan said he has been impacted greatly by starting a series. Starting a series has allowed him to become more familiar with the children, families and PTA of the Locust Grove Elementary School. He also has enjoyed meeting the participants since many of them are his children's classmates. He said there has been a fantastic participation throughout the elementary school and he can't wait to see the program in Locust Grove flourish. Dan was able to donate the money he raised to the school's PTA program. Dan said "It felt good to accomplish starting a series in such a short time frame" while giving back to the community.
 Dan said running a series was an amazing experience and easy to do because of how clear and outlined the program is structured (coordinator manuals and timelines).
If you would like to start a series of your own go to: https://healthykidsrunningseries.org/get-involved
If you have any questions or would like to be a sponsor of Healthy Kids Running Series Locust Grove, please contact Dan at: daniel.r.cianci@gmail.com