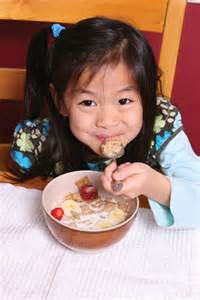 We all know that breakfast is the most important meal of the day, but how do you fit in a healthy breakfast for your family while wrangling your children for day care, bus pick up, and still get out the door on time? Easy! Plan ahead. Little athletes may not seem like it, but they too need a healthy mix of carbs, whole grains, dairy (or non-dairy), fruit, and protein.  Seem like a tall order? No way! Here are some super easy suggestions to help you manage your morning while filling hungry tummies with nutrition rich breakfast foods.
Waffle PB & B- toast 2 whole grain waffles, while they are still warm , top them with your favorite nut butter, sliced banana, and a little drizzle of honey or agave syrup.  For some more options, toss in some other sliced fruit or berries, or try some dried fruit like cherries or blueberries.  This is a great way to start the day with whole grains, a little 'good' fat, and a serving of fruit!
Overnight Oats – If you have ever looked at Pinterest, you can totally tell that this is a trendy breakfast that won't die.  It's a great alternative to granola and yogurt, and can easily be eaten on the road.  The night before, mix together 1-6 oz container of Greek yogurt, 1/2 cup of rolled oats (you can use quick oats, but trust me, it's not as good), and a few splashes of milk (or non-dairy milk).  Allow to refrigerate overnight.  In the morning, top with a drizzle of honey or agave syrup and mix in some dried fruit.
Egg wrap- This is another super easy to handle breakfast that you can make ahead of time and freeze.  Cook up 12 scrambled eggs with diced peppers, onion, and frozen hash browns.  Divide between 6 whole wheat wraps and top with shredded cheese and a dot of salsa (if desired).  Wrap them up burrito style and wrap in plastic wrap.  You can simply refrigerate if using in a day or so, beyond that, throw them in the freezer and allow to thaw overnight.  You can microwave for about 1 minute in the morning and you are good to go!