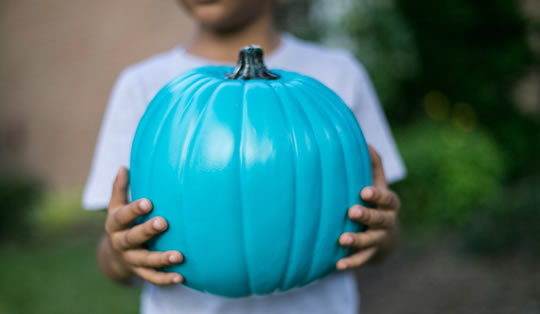 Do you have a kiddo that has allergies and they feel like they miss out on Halloween treats? Or do you want to give your neighborhood kiddos something other than the mini candy basics this year? Become a teal pumpkin house!
A teal pumpkin denotes a house that has alternative treats to candy  that are both allergy friendly and will make dentists across the country thrilled.  Grab some small packs of allergy free cookies (Oreos are vegan! Just FYI), Halloween pencils, or other little dollar store toys to hand out. 
And don't forget your pumpkin too! Wipe all of the dirt off a pumpkin and allow to dry, then spray paint away! Make sure to get a spray paint that is recommended for use on plastic- this way the paint will actually stick to the pumpkins flesh.
Happy Halloween!