Smoothies are something that most kids love more than whole fruits or fruit juices.
Smoothies for toddlers and younger children are just great, as they are so refreshing, loaded with the benefits of vitamins and minerals. They boost up the immunity and energy levels of your kid.
Vitamins and minerals are found in a very natural form in smoothies as they are rich in fruit fiber. Smoothies do not modify blood sugar levels. Kids are attracted by the colors of smoothies, so your picky eater will not hesitate in having one.
Here are some smoothie recipes for kids which you can try. Have a look:
Berry Fruit Smoothie! Refresh your kid's day with berries.
Ingredients:
1 cup frozen or fresh cherries
1 cup frozen or fresh blueberries
1 cup soy milk
Preparation:
Mix all the ingredients in a blender or in a food processor.
Add vanilla soy milk on topping.
Prepare a smooth puree and serve to your little one. Healthy fruit smoothie recipe for kids is ready!
A Green Smoothie that your kids will love! This recipe has a secret ingredient which makes it tasty and healthy for your kid.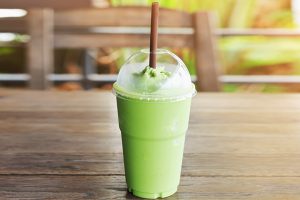 Ingredients:
2 cups of fresh pineapple chunks
1 cup firmly packed spinach
1 cup green grapes
½ cup coconut milk
1¼ cup fresh orange juice
1/2 cup vanilla yogurt
Preparation:
Mix all the ingredients in a blender.
You can also add 2 tbsp honey which is optional.
Make a perfect puree of all the ingredients and serve it to your kid.
You can call it an 'Emerald Smoothie', which is rich in iron, protein, vitamins and minerals.
Chocolate Cherry Smoothie. It's much healthier than it sounds, but still delicious! This is a rich and chocolaty smoothie. This smoothie just taste like a dessert and your kid will love it and can have it any time.
Ingredients:
¼ cup cranberry-raspberry juice
1 ½ cup unsweetened frozen cherries
½ cup low fat vanilla yogurt
1 cup low fat vanilla soy milk
1 tbsp chocolate hazelnut spread
Preparation:
Mix all the ingredients in a blender and make a perfect puree.
Chocolate cherry smoothie is ready! This will prepare two servings.
For the other 17 incredible smoothies, visit the original post at Mom Junction. You and your kids will be happy that you did!
---
This post comes from our friends at Mom Junction. To view the full list and recipes, visit http://www.momjunction.com/articles/smoothie-recipes-you-must-try-for-your-kids_00102323