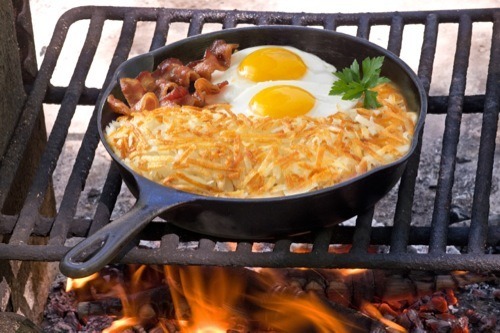 Campfire Breakfast Recipes That Kids Love, From Activekids.com
Campfire cooking with your kids can be simple and delicious!  While camping, it can be hard to make a quick and healthy breakfast because of the limited space and equipment.
 However, using a camp-fire pit allows for the kids to get involved, an easy clean-up and a great way to start the day!
Below, are two simple, savvy and delicious, healthy campfire breakfast recipes that all the kids will love!
This post comes from our friends at www.activekids.com
Omelet in a Bag
This simple method is perfect for campfire cooking, and yields delicious results. Place a large pot of water on a camping stove and bring it to a boil. While the water is heating, write everyone's name on quart-size freezer bags. Break two eggs into each bag and let your kids add their favorite omelet ingredients. Some options include:
Cheese

Bacon

Ham

Onions

Peppers

Tomatoes

Olives

Broccoli
Use your fingers, or a fork, to mix the ingredients together, and gently squeeze the air out of the bag—don't skip this step or the bag will burst open while cooking. When the water boils, add the bags to the pot and let them sit for 10 minutes, or until the eggs are solid. Take the bag out of the water and pour your finished meal onto a plate. Season the eggs with salt and pepper, and add a side of fresh fruit.  
More: How to Make Your Kids Fall in Love With Camping
Muffins in Orange Shells
Making muffins in orange shells takes a little work, but the wow factor is high for kids.  All you need is six oranges and one just-add-water bag of muffin mix.  
Slice the top off each orange and scrape out the fruit without breaking the rind. Have your kids fill the oranges 2/3 full with muffin mix, and then wrap the bottom of the orange in heavy-duty aluminum foil. Set it gently in coals, using gloves or tongs to avoid burns, and let bake for 10 to 15 minutes.
Once finished, your kids can eat right out of the rind with a fork or their fingers. Top it with fresh fruit for an extra boost of nutrients.
To check out this article and view more about campfire recipes, visit
http://www.activekids.com/camping/articles/6-campfire-recipes-kids-love-to-make   
This image comes from : http://blog.koa.com