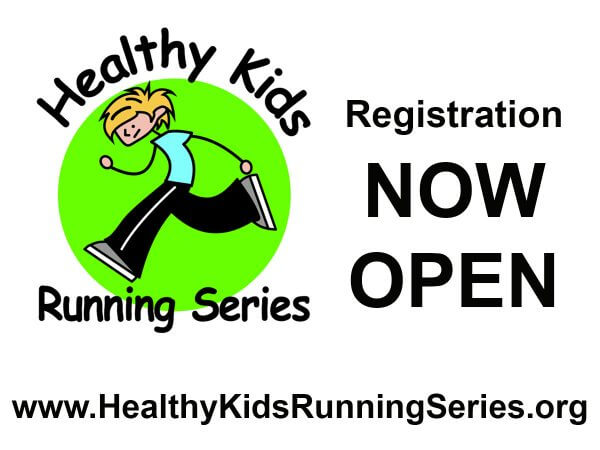 It's that time of year again…Healthy Kids Running Series registration!! Our spring Series registration will open today, Monday, January 16th at noon, and we will have additional new sites opening throughout the rest of January.  Spring Series races will begin on the weekend of March 17th-19th and continue through late April, so keep an eye on your individual race location page for details.  We are up to over 140 races nationwide, so chances are good there is one near your area!
Never run a Healthy Kids Running Series race? Here are the basics.
Healthy Kids Running Series (HKRS) is a series of 5 weeks of cross country style races (typically on Sundays, but there are variations, depending on location) that are age graded for kids 2 years old through middle school.  Our youngest kiddos run a 50 yard dash, 4-5 year olds run a 75 yard dash (New this year!!!), K-1st grade 1/4 mile, 2nd/3rd grade 1/2 mile, and 4th/5th graders through middle school run 1 mile.  Over the course of the 5 weeks, kids that participate earn points based on their finish in the race, 10 points for 1st place and down to 1 point for 10th place and beyond. All children will receive a participation point! Each child that participates in week 5 will receive a 2017 race medal.  For races with 150 kids or less, the top point earner in each division will win a trophy, and for races with over 150 kids the first 3 places in each division will receive an award.
Each child that is pre-registered for the 5 weeks will receive a tech t-shirt, 5 race bibs (one for each week), and a race bag of goodies. Sponsors vary town to town, so each area has unique surprises and support.
To register, check out https://healthykidsrunningseries.org/race-calendar/locations/ to find a location near you! See you on the course!