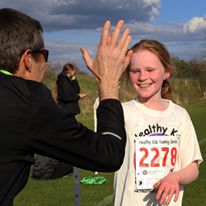 Athletics are an important way for kids to stay healthy, but sports participation is also important to your child's social growth as well.  Sports teach kids important skills like team work, problem solving, and generally how to be a gracious winner or loser.  But…how do you keep your kids excited and interested in sports as they move through their adolescence? Studies have shown that almost 50% of children who start sports in young childhood do not continue to play through their high school and adult years.  Get you kids excited about sticking with sports by:
Showing up! Make time to get to their games or matches.  Take an active role in their participation. 
Lead by example- check out a local 5k run (or walk!), join a recreational team, coach your child's team
Encourage your kids- make a posterboard sign, wear their team's colors, basically anything that may potentially embarrass your kid is perfect! They might appear not to like it now, but these are the little things they will remember.
Make sure that they sport that your kid plays is chosen by them.  Offering a sense of autonomy through choice will encourage your child to have a vested interest in their sport.
And never miss an opportunity to #getupandgo!