We are all taught at a young age the physical aspects of 'health.'  We know it is important to exercise and to maintain a balanced diet.  On the other hand, it takes much longer to grasp the mental benefits of these aspects of our lives.  Both play an equally important and intertwined role in our all-around health, and it is essential that we instill these values in our children as early as possible.
Specifically, for parents with a young child struggling through chronic health conditions, including obesity, diabetes, ADHD, anxiety and other challenges, Dr. Rachana D. Shah, an endocrinologist at the Children's Hospital of Philadelphia, says exercise is an incredibly important tool for managing those conditions.
"I highly recommend increased physical activity to almost all of my patients for the treatment of specific illnesses or just general well-being," said Dr. Shah. "Healthy Kids Running Series offers an alternative sport for boys and girls that lack the financial means, social and physical skills or confidence to participate in traditional kids' team sports activities."
Our organization is an option for structured activity accessible to almost any child, regardless of fitness level and other health challenges.  For many of our runners, this is their first experience with structured athletics or physical activities.  At a young age, we encourage participants to live an active lifestyle through goal setting and dedication.  In this way, it can be a gateway into healthy habits in all aspects of their lives.
"Seeing the pride and self-esteem boost in the kids after being cheered on to complete their course is incredible," said Dr. Shah who is also a parent of kids who participate in the Series. "Participation in the running series helps teach children about the importance of perseverance and practice in building stamina. Building the habit of regular exercise early in life, particularly an activity that can be continued life-long (like running) will be invaluable to long-term physical and mental health."
"The program also provides a great opportunity for children who have trouble with coordination and the social challenges involved in team sports". Dr. Shah adds. "You can directly see the confidence and self-esteem rise as kids realize that they are actually doing well at running."
Many of our former runners continue running in longer races as they get older.   Others become involved in other sports or activities where they continue a healthy lifestyle. When we see this evolution, we know our program has served its purpose!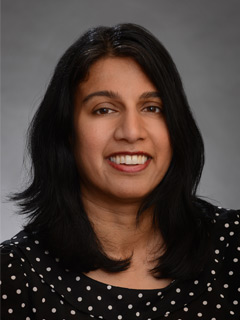 Dr. Rachana D. Shah, MD, MsTR, is an attending physician at Children's Hospital of Philadelphia who specializes in treating children with diabetes, hyperinsulinism and endocrinology disorders. She also helps head the Healthy Weight Program within CHOP.