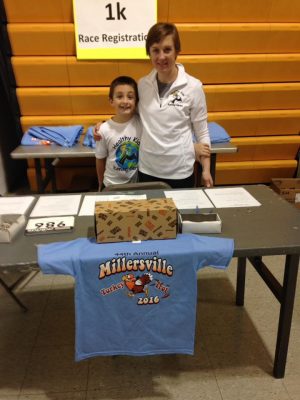 If you are anything like us, your holidays are jam-packed full of baking, gift wrapping, parties, and lots of family time; but this is a great time of year to volunteer and give a little of your time to others as well.  It's difficult to find kid-friendly ways to volunteer, so here are a few suggestions from the HKRS families:
Volunteer at a race! Look for a race around your community that you and your kids can help out with.  Work at a water station, hand out t-shirts, or simply contact the race director to find some jobs that you and your family can do together.  This is also a great way to inspire your kids to keep moving!
Donate canned goods to a local food bank.  As much as we would love to serve others a Thanksgiving meal, it's not the most kid-approved job, so we always do the next best thing and take a bunch of canned and boxed food items to our local food bank for other families in need.
Check with your local animal shelter to see that they could use for the pets in need.  Most shelters have very strict volunteer criteria and may discourage volunteers under 18 years old, but most times will accept small toys (we braid pieces of leftover pieces of fleece for dog pull toys) or boxes of litter, treats, etc.
Give your time to a community member in need.  Everyone has the neighborhood 'grandparents' that could use a hand raking leaves, shoveling snow, or just taking out the trash.  Anytime is a good time to start a habit of helping others.
Thanks so much to all of our families.  Please enjoy a safe and happy holiday season!