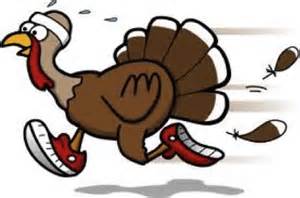 With all of the in the kitchen on Thanksgiving, it might be hard to keep the little ones from being underfoot.  A new tradition for our family this year will be the Thanksgiving Olympics! We are going to plan a series of games and activities for the kiddos to keep them occupied without spending the day glued to the TV.  Here's our Pinterest heavy plan for the afternoon:
Pin the tail on the turkey- The favorite birthday game, but with a festive twist.  Grab a poster board, glue, colorful paper, and markers. Cut out a large circle and a small circle from brown paper to make the body of the turkey, a yellow triangle for the beak, and glue them to the posterboard.  Cut out feathers from the colored paper and write the kid's (or adults!) names on them.  Slap a tape donut on the back and you're in business!
Have a turkey scavenger hunt- come up with a list of items related to the holiday and send your kids with a checklist to find them.
Copy thanksgiving coloring pages off of a free website.  There are thousands of these available.
Start a family bingo game and add in a twist of rotating cards after each round or two.  This will get you moving while participating in an easy game that everyone can enjoy!
Have a great Thanksgiving!