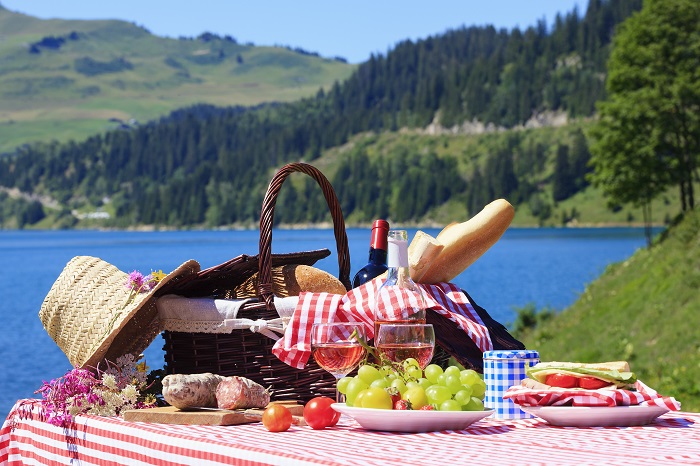 By Britney Kennedy | OnPoint Nutrition
It's FINALLY spring, which means kids will be playing outdoors, participating in sports, and overall exerting more energy!  The harder they play, the more energy they'll need from food.
Choosing healthy snacks for your child is extremely important.  Remember, quick and portable do not have to mean unhealthy.  Snacks such as chips and candy contain empty calories, leaving children hungry, wanting to eat more.  There are healthy snack options in each of the five major food groups: protein, fruit, vegetable, dairy, and grains.
Combining multiple food groups within one snack can help improve substance and variety in your child's diet. One of our favorite ways to incorporate variety into your family's diet is by having a PICNIC!
What you'll need:
napkins
picnic blanket
plates & utensils
one full water bottle per person
sunscreen & bug spray
FOOD!
For Balance, Include the 5 Major Food Groups
A balanced meal includes fruits and vegetables, protein, dairy, and fiber rich carbohydrates. Be smart when packing your picnic, including a variety of items from each food group!
For Quick Energy – stock your basket full of fruits, vegetables, and carbohydrates
For Long Lasting Energy – focus on fats from meat, eggs, cheese, milk, and yogurt
For Muscle Recovery – include protein from meat, eggs, and dairy
For Proper Hydration – drink at least 16 ounces of water during your time outside
Nonperishable Picnic Foods:
Nut or seed butter and jam on whole wheat bread
Fruits like bananas, apples, kiwis, oranges, pears, peaches, plums or dried fruit
Crunchy snacks like pretzels, whole wheat crackers, goldfish crackers, popcorn and mixed nuts
Picnic foods to keep cold:
Meat sandwiches on whole wheat bread; turkey, tuna, or egg are great lean protein options
Hummus with cut up veggies like carrots, celery or cucumbers
Fruit salad
Yogurt
Cheese sticks
Pasta or grain salads
Potato salads
For your next picnic, try these fun, easy recipes for Tortilla Pinwheel Lollipops and Vegetarian Pasta Salad. Preparing food as a family teaches children the importance of eating healthy and balanced meals and snacks.  Involving your kids in the kitchen will spark their interest in experimenting with new items.
Tortilla Pinwheel Lollipops (https://homecookingmemories.com/kid-lunch-ideas-tortilla-pinwheel-lollipops/)
Ingredients:
8 ounces cream cheese (softened)
1/2 ounce package ranch dip mix (1/2)
5–6 tortillas (large soft taco size)
9 ounces Hillshire Farm lunch meat
8 ounces thinly sliced cheese
Instructions:
Combine cream cheese with ranch dressing mix in either stand mixer, or in a bowl by hand or with a hand mixer. Spread some of the mixture on a tortilla, almost all the way to the edges.
Lay 4 slices of lunch meat on top of the cream cheese mixture, but not covering the very edge of the cream cheese. Lay 4 slices of provolone cheese on top of the meat slices. Spread a thin layer of cream cheese mixture on top of the cheese/meat.
Roll the tortilla around the meat and cheese as tightly as possible, but without tearing the tortillas. If time allows, wrap the rolled tortilla in plastic wrap and refrigerate for several hours before cutting. If time doesn't allow, skip the wrapping and refrigeration. Cut rolled tortillas into approximate 1 1/2″ pinwheel slices. With discarding the ends, you should end up with 4 good size slices from soft taco sized tortillas.
Insert one end of a 4? lollipop stick into the edge of the tortilla pinwheel, fairly close to where the tortillas ends. Carefully press the stick up through the pinwheel and just until you can feel it reach the very opposite side of the pinwheel and is close to poking through (but don't poke through).
Vegetarian Pasta Salad (https://vegetarianmamma.com/kid-friendly-pasta-salad/)
Ingredients
1 cup cooked edamame
1 cup chopped carrot
1 cup halved cherry tomatoes
1 cup halved black olives
1 cup cheddar cheese chunks about equal to 4 cheese sticks!
1 cup Italian salad dressing
1 box whole wheat fusilli
1/2 cup of fresh parsley
Instructions
Prepare pasta per direction on box. Once pasta is cooked, rinse in cool water, drain and set aside.
Cook 1 cup of edamame per the instructions on the box. Set aside to cool.
Chop and prepare your carrots, tomatoes, olives and cheese.
Place all ingredients into a large bowl. Mix until combined well.
Chill and serve!