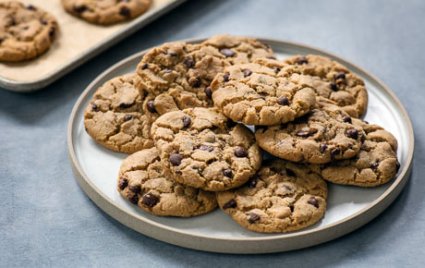 April 30, 2018 | Emily Pierce RD, LDN
To describe baking as a healthy activity may seem outlandish. Everyone enjoys a sweet confection now and again, but what if we told you there were things you can do to turn that cookie from foe to friend? Foodies and bakers alike have invested hours revitalizing dessert recipes to cut out the empty, processed ingredients that rapidly expand our waistline. Refined flour, sugar, and shortening take a backseat as we explore different ingredients to satisfy your sweet tooth!
Adjusting recipes is also an easy way to accommodate whatever type of eating style you or
your loved ones adhere to. Regardless of food allergies or intake limitations, everyone can and
should be able to enjoy dessert from time to time without sacrificing flavor!
Substitutions can impact your recipes' texture, taste, and binding abilities-
meaning extra time or effort may be required. Don't let that deter you; use these substitutions below asyour starting point! Choose ingredients based on what will logically go well in your flavor profile.
An Egg-cellent Swap
Axing eggs from recipes accommodates vegan eaters, while lowering fat and cholesterol content
Quantity adjustment: Approx. 1/4 cup per egg of the following ingredients (will vary based on
recipe)
• Apple sauce
• Canned pumpkin
• Aquafaba
• Flax egg
• Greek yogurt
• Ripe bananas
Fuel Up On Fiber
Gluten free friends will benefit from this switch!  These flour alternatives also yield higher fiber, less refined, flavor and texture changes than than traditional white flour.
Quantity adjustment: Often quantities remain equal to that of white flour
• Spelt flour
• Brown rice flour
• Whole wheat flour
• Millet flour
• Almond flour
• Oat flour
• Chickpea flour
No Sugarcoating Here
Swapping sugar for a healthier alternative may enhance the flavor and potentially be lower on the glycemic index.
Quantity adjustment: for most recipes halve the amount of sugar called for when using one of
these substitutes
• Honey
• Agave
• Molasses
• Maple syrup
• Unsweetened cocoa powder
• Cinnamon, nutmeg, pumpkin pie spice
---
Vegan chocolate chip cookies
1 serving = 2 small cookies, 1 starch and 1 fat
Ingredients
2 very ripe bananas
1/2 cup applesauce
1 tsp. vanilla extract
1 tbsp. molasses
1 cup natural peanut butter
2 cups whole spelt flour
1 cup rolled or old-fashioned oats
2 tsp. baking soda
1/4 tsp. salt
1 1/2 cups vegan chocolate chips
1/4 cup ground flaxseed
Instructions
Preheat oven to 350 degrees Fahrenheit
Spray cookie sheet with nonstick cooking spray.
Mash bananas well with fork, Add applesauce, vanilla, molasses and peanut butter. Mix thoroughly.
In separate bowl, combine dry ingredients (except for chocolate chips).
Add dry ingredients to banana mixture and thoroughly combine.
Fold in chocolate chips.
Portion onto cookie sheet in dollops using a spoon from your silverware drawer.
Bake 12 minutes, remove from oven and allow to cool a few minutes before transferring cookies to cooling rack.
OnPoint Nutrition is the leader in Virtual Weight Loss and Nutrition Counseling in the Philadelpia Area