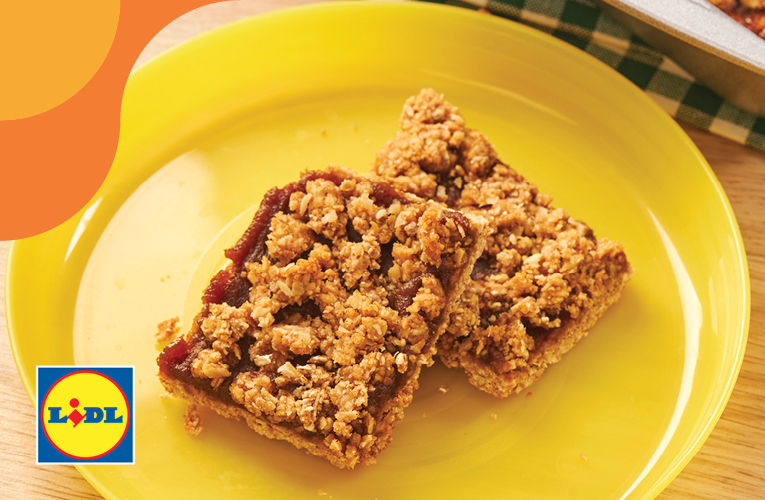 Thanksgiving breakfast made easy? You butter believe it!
Thanksgiving traditions make us think of turkey, family and lots of shopping! But they also mean messy kitchens and hours spent cooking. All this can make breakfast around the holidays seem like a real chore. Treat yourself and the kids to an easy, nourishing meal that you can make ahead of time.
Lidl's recipe for apple butter oatmeal breakfast bars makes the perfect meal whether you need a snack before the big dinner or an easy weekend breakfast. This recipe is no fuss, has minimal prep and Lidl's low prices mean it won't break the bank.
apple butter oatmeal breakfast bars
servings: 12
prep time: 10 min
cook time: 25 min
total time: 35 min
ingredients
2 cups old fashioned oats
¼ cup whole wheat flour
½ teaspoon baking powder
½ teaspoon cinnamon
¼ teaspoon sea salt
¼ cup honey
¼ cup peanut butter
¼ cup milk
1 cup apple butter
directions
Heat oven to 350°F, line an 8×8 baking pan with parchment paper.
In a medium-sized bowl, mix oats, flour, baking powder, cinnamon and salt together.
Add honey, peanut butter and milk into the oat mixture. Stir to fully combine.
Reserve about ¾ cup of the oat mixture and use the rest to create a bottom crust by firmly pressing into the prepared pan.
Spread apple butter over the oat crust. Crumble the remaining oat mixture over the top of the apple butter.
Bake for about 25 minutes.
Let cool completely, remove from pan and cut into 12 bars.
Store in the refrigerator for up to one week.