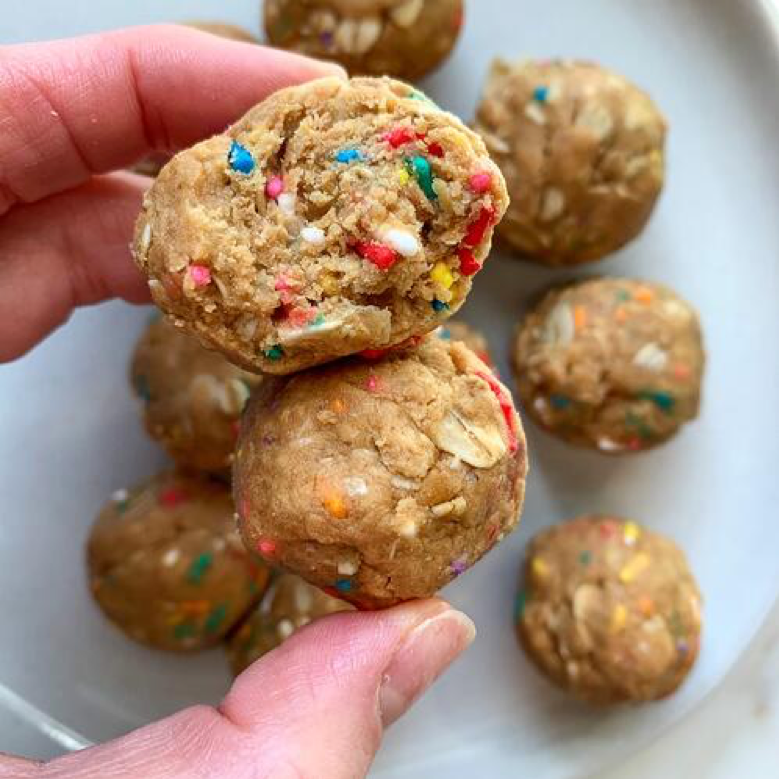 Written by: OnPoint Nutrition
Happy Summer! The days are longer, warmer and all around more relaxing, the last thing you want to do is pull away from quality family time to cook a large meal alone in a hot kitchen.  Thankfully, you can choose quick, easy, light dishes that can be prepared together with your kids.  Everyone will feel great eating nutritious well-balanced meals, and you will not have to sacrifice quality time with your family!
Getting children involved with cooking inspires excitement around mealtimes and empowers children and families to make healthy food choices.  Summer is a great time to introduce new recipes and to allow children to experiment in the kitchen.  The more exposure and variety children have to new food, the more familiar the food will be, and your children will be more likely to try them.  Get them involved from the beginning.  The more invested children are in their meals the more likely they are to try something new!
How to get children Involved in mealtimes:
Create a meal plan together:
Allow children to pick main dishes, side dishes, and desserts with your input.   Work together to create balanced meals that consist of at least three food groups. Plan the entire weeks' worth of meals to take the guess work out of mealtime and to avoid surprises (children love a routine, and when the routine is disturbed it can interfere with willingness to cooperate) Make it simple and write it out!
Grocery shop as a family:
 Teaching children by providing examples and experiences such as making a list, weighing produce, exchanging currency, and comparing nutrition labels will provide them with skills they can use for a lifetime.  Going together to the grocery store teaches planning and organizational skills, encourages positive social interaction, strengthens math development, and encourages nutritious food choices.
Have each member of the family be responsible for a portion of the meal.  This should be age appropriate. Young children can set the table, wash produce, measure ingredients, and put dishes away. Older children can chop vegetables, season meats, and use the oven.  The more involved they are with the cooking process the more willing they will be to enjoy their meals.
Do not be afraid to let them (and your kitchen) get messy! The more freedom they have in creating their own dishes the more excited they will be to cook.  Provide them with the tools they need to prepare their meals, and so they can clean up after themselves.
Family meals encourage healthy social interaction, better grades, less stress, and happier more connected families.  Eating together the meal that was prepared together will strengthen a family's bond and help children find joy in cooking!
Recipes to Try this Summer
Grilled Pizza
Serves 4
Ingredients:
1 ¾ cups all purpose flour
½ envelop of pizza crust yeast
1 ½ tsp sugar
¾ tsp salt
2/3 cup warm water
2 tbsp oil
Pizza sauce
Low fat mozzarella cheese
Other toppings (spinach, mushrooms, onions, pepperoni, etc)
Instructions:
Preheat grill on medium heat
Combine flour, yeast, sugar, salt in a large bowl
Add warm water and oil, mix until well blended
Gradually add flour until soft dough forms (should be slightly sticky)
Knead dough on a floured surface, until smooth and elastic (5 minutes)
Divide dough in 4 portions, roll into 8-inch circles
Brush both sides of dough with oil, place on grill and cook until golden brown
Remove from grill, add sauce cheese, and other toppings
Return to grill, cook for an additional 3-4 minutes until cheese is melted.
Red, White and Blue Yogurt Parfaits
Serves:1
Ingredients:
4 oz non-fat plain Greek yogurt
½ cup blueberries
½ cup strawberries
¼ cup low sugar granola
1 tsp honey
Instructions:
Place 1/3 of Greek yogurt at the bottom of a small dish
Top with blueberries
Top with 1/3 of Greek yogurt
Top with strawberries
Top with 1/3 of Greek yogurt
Drizzle with honey, and top with granola
Serves: 6
Ingredients:
1/4 cup natural peanut butter
1/2 cup rolled oats
2 tbsp pure maple syrup
2 scoops vanilla protein powder (@drinkorgain)
1 tsp vanilla extract
2 tbsp rainbow sprinkles
Instructions:
In a bowl, mix together maple syrup, peanut butter and vanilla.
Fold in protein powder, oats and sprinkles.
Add a bit more oats until able to form into balls. Roll into slightly smaller than 1 inch balls and freeze for 1 hour.
Store in air-tight container in the fridge.
Recently awarded Philadelphia Magazine's – Best of Philly 2018, OnPoint is your go-to for all things health and nutrition. We are a team of Registered Dietitians and Nutritionists who believe in a whole foods, anti-diet approach to healthy living. Our evidence-based, one-on-one, virtual approach ensures you receive the highest level of service and sustainable results. Click here to learn more about the OnPoint approach.