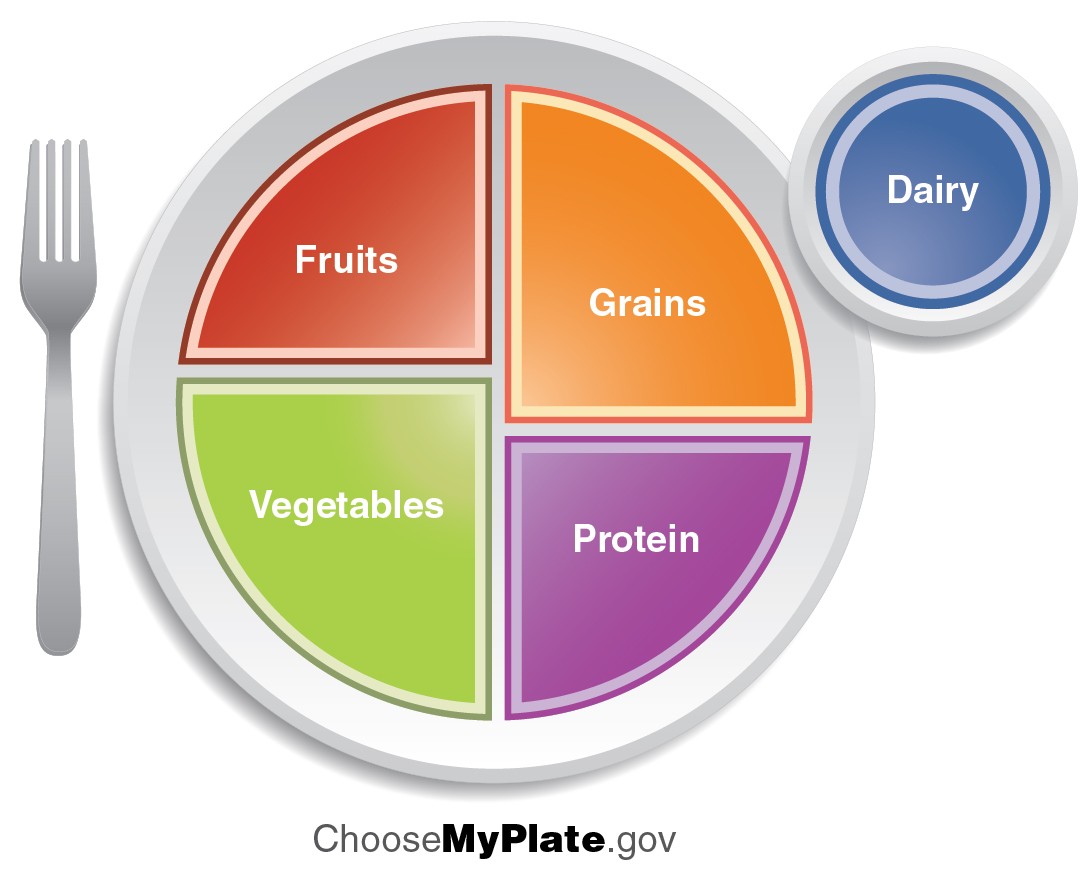 This month, challenge your family to plan dinners to include all five food groups! Each member of the family can have a day of the week to decide upon, or everyone can organize the menu together.
---
The five food groups are: grains, protein, fruit, vegetables, and dairy.
The grains group includes rice, bread, pastas, quinoa, corn, and cereal. This group is the number one energy source for our bodies. Can you guess which organ gets first dibs on energy? If you guessed the brain, you're right! Our brain is the leader for every function. Any time you answer a question at school or remember to do your chores, you can thank the grain group for brainfood!
Protein foods include chicken, pork, beef, turkey, fish and seafood, eggs, tofu, and beans. Protein helps our muscles recover after sports, running and playing. It also helps us build muscle and strength. It's important to have protein after every run to help your muscles continue to grow!
This sweet and colorful group is an important part of our day. Fruit can satisfy your sweet tooth and be your after-dinner dessert. Fruit contains fiber and lots of vitamins to keep us healthy! Vitamin C is found in most fruits. Vitamin C keeps our immune systems strong, helping to fight colds and other sickness.
Another colorful and yummy group! Some of the healthiest vegetables are spinach, peppers, tomatoes, zucchini, broccoli, cauliflower, eggplant, and asparagus. Vegetables contain fiber, which keeps our digestion moving and helps us feel full. Remember to focus on the rainbow when selecting fruits and vegetables for the week.  The more color, the better!
This group includes cheese, yogurt, milk, ice cream, ricotta and cottage cheese. Dairy foods contain calcium, vitamin D, vitamin B12, potassium and phosphorus. These micronutrients also help keep our bodies in tip-top shape. Vitamins and minerals are important for regulating our heart beat, and the way our bodies move.
---
Once you know the importance of every food group, the next step is getting all of them on your plate.  Preparing foods together as a family teaches children the importance of eating healthy, well balanced meals.  Involving everyone in the cooking process is a sure-fire way to spark interest in new food items. You never know if you have a budding chef in your kitchen!
The age of the children can dictate how involved they will be in the planning and preparation of the meal. Very young children can pick the produce at the store using the rainbow as a guide. Older children can help prepare food, and even do some of the easy cooking steps. Everyone can help to weigh and measure or portion the appropriate ingredients!
These Hawaiian kabobs are a fun example of how to create a balanced meal and include foods from all five major food groups.  Chicken is the protein, pineapple is the fruit, peppers and tomatoes are the vegetable, rice is the grain, and milk to drink is the dairy. Combining everything all together is the fun part. 😊
---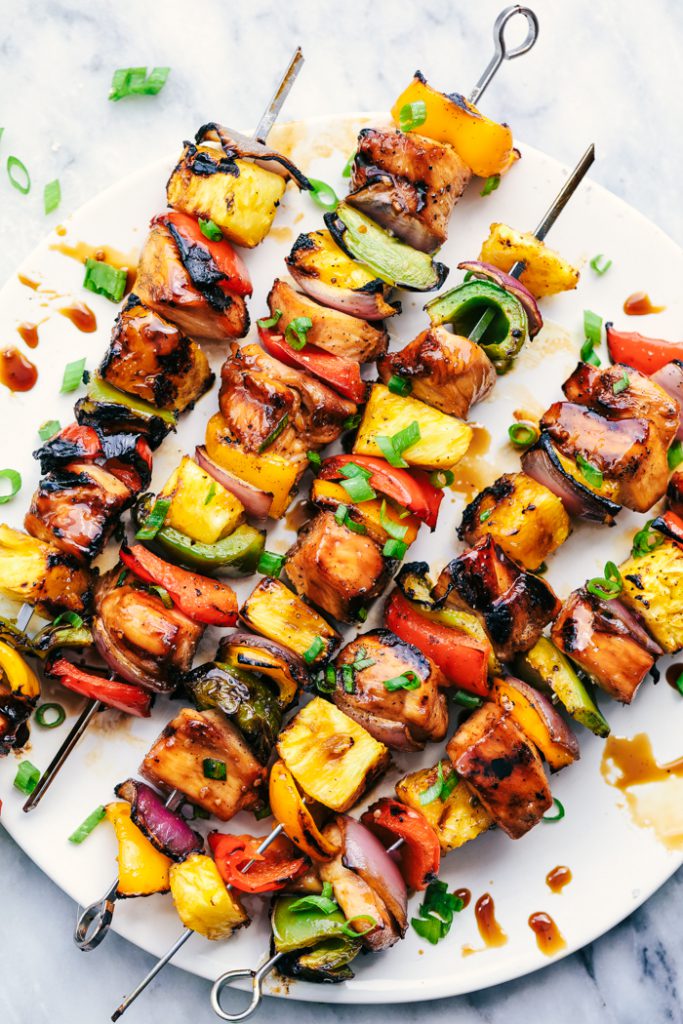 Hawaiian Chicken Kabobs with Brown Rice
Marinating chicken in pineapple juice keeps the meat juicy and adds a wonderful sweetness.  You can also get creative with your kabobs by experimenting with different proteins and vegetables.  The more colorful your kabob, the more nutrients it packs! Lastly, brown rice is a great grain option to add to any meal because it provides fiber and it is a whole grain! Remember, whole grains keep us full and satisfied.
Ingredients:
Marinade
1 lb. boneless, skinless chicken breasts (at least 36 pieces), all visible fat discarded, cut into bite-size pieces
2 tbsp. low-sodium soy sauce
20 oz canned, unsweetened juice from pineapple chunks can
2 clove fresh garlic, minced OR 1 tsp. jarred minced garlic
Chicken Kabobs
Non-stick cooking spray
36 pineapple chunks, packed in their own juice
2 fresh, chopped bell peppers (chopped into 36 pieces)
1 pint grape tomatoes or cherry tomatoes
12-15 wooden skewers
2 cup brown rice
Directions:
Marinade
In plastic bag, add chicken chunks
Have kids add soy sauce, 1 cup pineapple juice, and garlic into plastic bag. Seal and let chicken marinate in the fridge for about 15 minutes.
Chicken Kabobs
Preheat oven to 400 F or turn on grill to medium heat.
Remove chicken from marinade and place in a bowl.
Spray a baking sheet with cooking spray. Have kids wash bell peppers and tomatoes before chopping.  For kid-safe assembly, place the pineapple, chopped peppers, and tomatoes in 3 separate bowls.
Let kids add pineapple, peppers, and tomatoes to the skewers while adults assist with the addition of the raw chicken chunks. Repeat until all ingredients have been used.
Place on baking sheet and cook in the oven or on the grill for about 15 minutes, or until the chicken has reached an internal temperature of 165 F
Serve with a glass of milk to get your dairy serving
Safety Tips:
You can also cook these on the grill. Be sure to soak the wooden skewers in cold water for 30 minutes before assembling kabobs to prevent them from catching fire.
Always use flame resistant materials near the grill
Always wash hands thoroughly with hot water and soap after handling foods, especially raw meats
Go to OnPoint Nutrition for Virtual Weight Loss and Nutrition Counseling!