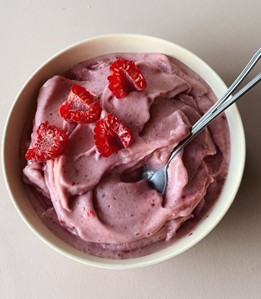 It is midsummer and we are enjoying these slower paced hot days. Now is the best time to try out OnPoint Nutrition's delicious summer treat, Banana Nice Cream. 
Bananas are a highly nutritious, energy packed fruit that provides our bodies with many beneficial nutrients including Fiber, Potassium, Iron, Biotin, and Vitamins A, C, and B6.
Benefits of Bananas
Provides energy: bananas are rich in fiber that helps regulate blood sugar providing energy to the body long after meals.
Improves digestion: in addition to providing energy, the fiber in bananas regulates bowel movements, preventing stomach discomfort.
Supports heart health: bananas have potassium and magnesium, two minerals essential for heart health and blood pressure control.
Antioxidant: bananas are high in dopamine and catechins, antioxidants that help lower your risk for some diseases.
Convenient: bananas are a convenient versatile snack that makes for a great addition to breakfast, side dishes, or a dessert.
This Summer try out this delicious Banana Nice Cream from OnPoint Nutrition to introduce this delicious and nutrition fruit in your diet.
(2 Servings)
Ingredients:
2 medium bananas
½ cup Raspberries, Blueberries, or strawberries
1 teaspoon honey
3 Tablespoons almond, oat, or coconut milk
Directions:
Slice the bananas and place them on a parchment-lined baking sheet along with the raspberries. Place in the freezer for at least 2 to 3 hours, or overnight.
Remove the frozen banana slices from the freezer and place them in a blender or food processor. Add the honey and milk and process on high speed for 3 to 4 minutes, or until the nice cream is smooth (you may need to scrape down the sides).
Serve and enjoy! This is best eaten immediately but can be frozen for eating later, with a much stiffer texture.
Awarded Philadelphia Magazine's – Best of Philly 2018, OnPoint is your go-to for all things health and nutrition. We are a team of Registered Dietitians and Nutritionists who believe in a whole foods, anti-diet approach to healthy living. Our evidence-based, one-on-one, virtual approach ensures you receive the highest level of service and sustainable results. Click here to learn more about the OnPoint approach.