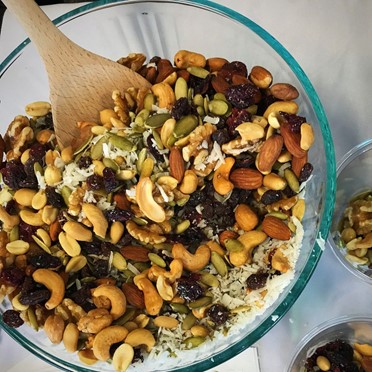 Feeling nutty looking for a quick on the go snack for your children?  Try the easy, compact, and humble nut family! They are a small nutrient packed snack for children and adults alike.  Nuts contain nutrients like healthy fats, protein, vitamins, minerals, antioxidants, and fiber that provides energy, aids in growth and development, and supports bone health.
A little goes a long way, only a 30-gram serving (or small handful) of nuts contains about 36% of a child's daily Vitamin E requirement, 13% of their fiber needs, 4 grams of Protein, plus B-vitamins, calcium, iron, zinc, potassium, and magnesium.
Nuts can be introduced into a child's diet at 6 months of age.  However, children under five should avoid whole nuts due to risk of choking. You can safely add nuts by utilizing nut pastes, nut butters, or ground nuts in oatmeal, smoothies, pancakes, and sauces.
Health Benefits of Nuts:
Nuts such as almonds, are filled with calcium and vitamin E to help support bone development.
Almonds, walnuts, and chestnuts have B-vitamins that are good for brain tissue and nerve health.  Helping to improve concentration and memory.
Walnuts, Brazil Nuts, Chestnuts, and cashews have selenium, copper, zinc and Vitamin C, all of which aid in boosting immunity and are antioxidants.
Maintain Normal Blood Pressure
Walnuts, cashews, and almonds have omega 3 fatty acids that help children maintain normal blood pressure and release dopamine in the brain decreasing stress and anxiety.
Maintain regular bowel movements
Most nuts contain fiber that aids in satiety and healthy digestion.
This Homemade trail mix from OnPoint Nutrition is a great way to ensure you get your favorite nuts without all the extra sugar that comes in store bought mixes. Portion into snack bags for the perfect on-the-go serving of healthy fats.
Ingredients:
¼ cup almonds
¼ walnuts
¼ cup cashews
¼ cup peanuts
¼ dried cranberries
¼ cup unsweetened raisins
¼ cup pumpkin seeds
¼ shredded coconut
Directions:
Add all ingredient together and mix
Enjoy this delicious, energy boosting trail mix as a solo snack or in your favorite yogurt.
Awarded Philadelphia Magazine's – Best of Philly 2018, OnPoint is your go-to for all things health and nutrition. We are a team of Registered Dietitians and Nutritionists who believe in a whole foods, anti-diet approach to healthy living. Our evidence-based, one-on-one, virtual approach ensures you receive the highest level of service and sustainable results. Click here to learn more about the OnPoint approach.