Your summer season will likely be sprinkled with weekend trips, family visits, and long days on the go. Navigating restaurants, sweets, and being out of your usual routine might be a challenge, but doesn't have to derail your goals. Read on for five key things to focus in on to ensure the healthiest vacation for you and your family this year!
Eat Breakfast
Breakfast is an important and essential way to start your day, and this should be no different on vacation. If you're visiting a continental or buffet style breakfast in the morning be sure to avoid the pastries and sugary cereals. While tempting, a high sugar breakfast won't keep you satisfied for long! Aim for a well-balanced plate as you usually would containing protein, starch, and fruits or veggies. If you're staying somewhere with a kitchen, smoothies are refreshing and easy for the whole family, as are a batch of scrambled eggs and toast. For breakfasts on the go consider making PB & J sandwiches, packing fruit and water. Not only is this non-perishable, but also contains a healthy combination of carbohydrates, fat, protein, and fiber!
Warm Weather Snacks
Snacking is key to avoid hunger between meals.  Focus on non-perishable items like whole fruit, nuts, protein bars, and raw vegetables. These can be tossed into a purse or small bag and utilized throughout the day. If you are traveling with a cooler, your options expand even further! With a cooler you could also include hummus and dips for vegetables, cheese sticks, yogurt, and sandwiches.
Beat the heat
If you enjoy running all summer long you probably aim to do your workouts in the morning, before the sun is beating down at full force. This helps ensure a safe and enjoyable run. Know your limits, and don't take risks with the heat.
Stay hydrated
Aim to drink small amounts of water all day long rather than a large amount at once. Adults can determine water needs based on your weight in kilograms. This is found by dividing weight in pounds by 2.2. Your weight in kilograms equals the number of ounces of water you need daily. The chart below highlights water needs for children based on age. Each glass represents an 8oz serving of water.
In warmer weather, your body is sweating more and utilizing the water you drink at a faster rate. You may need to consume extra during the summer, especially when you are being active.
Water is the number one hydrator all year round! If plain water sounds like a bore, add a squirt of lemon, orange or lime, or consider infusing your water with herbs, cucumber, or sliced fruits. Did someone say spa water?
Ice cream hacks
Going out to get an ice cream cone might serve you better than buying a whole or half gallon. Why, you ask? When the tub of ice cream is in your vicinity, you may be more likely to have multiple servings. Getting one small ice cream cone in a pre-determined portion can save you from over doing it on sweets! As you already know, desserts and sweets are indulgences not meant for everyday- even when we're on vacation.
Watermelon Mint Popsicles
With minimal added sugar these pops are the most refreshing part of the afternoon!
Ingredients
1 1/2 pounds seedless watermelon without the rind, cut into 1-inch dice (about 4 cups)
1 tablespoons sugar
1/4 cup mint leaves, minced
2 teaspoons finely grated lemon zest
Pinch of salt
Instructions
In a blender, puree the watermelon with the sugar until smooth. Stir in the mint, lemon zest and salt. Pour the puree into 8 popsicle molds or 2 standard ice cube trays (insert popsicle sticks halfway through freezing) and freeze until hard, about 3 hours. The watermelon popsicles can be frozen for up to 1 week.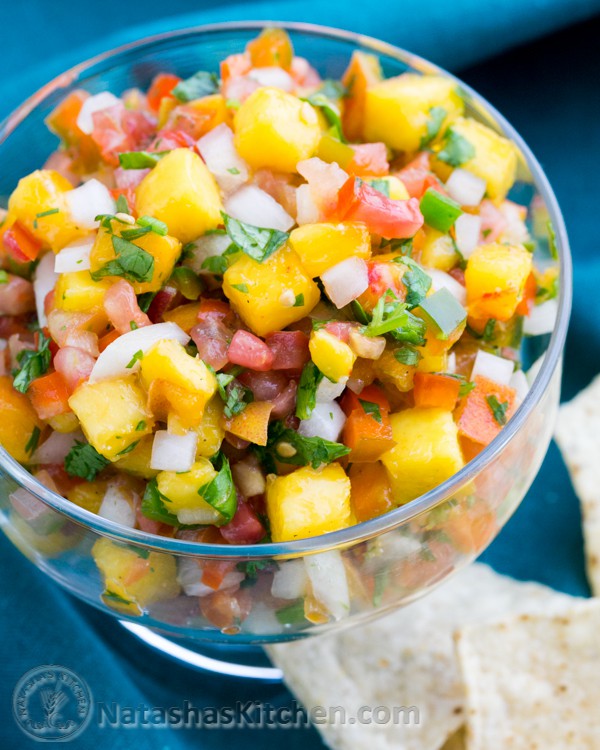 Peach salsa
Pair this with grilled shrimp or fish, or on delicious tacos.
Ingredients
1 lb tomatoes diced
1 bell pepper 4 oz, seeded and finely diced
1 medium onion finely diced
1 1/2 lbs peaches diced
1/2 bunch cilantro chopped
2 Tbsp lime juice
1 1/2 tsp salt or to taste
1/4 tsp freshly ground black pepper or to taste
Instructions
Chop tomatoes and transfer them to a large bowl.
Finely chop seeded bell pepper and onion and transfer all your veggies to the bowl.
Dice the peaches, no need to peel them, add peaches to your bowl.
Add the chopped cilantro, lime juice, salt and pepper. Gently stir everything together until well mixed and enjoy!