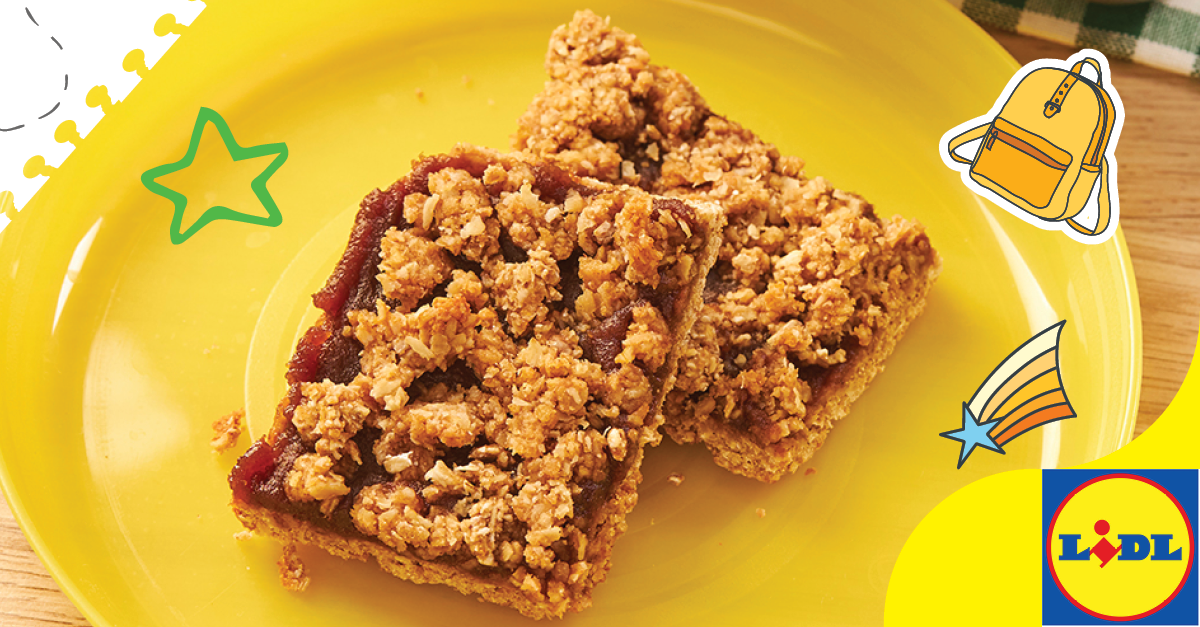 morning magic
Breakfast is the most important meal of the day, and our partner Lidl has the most important deals of the day. Wake up to delicious oatmeal bars made with low-priced ingredients from Lidl. Customize to your liking (gluten free flour, almond butter, dairy-free milk alternative… you name it) and make ahead before your busy morning begins*. The best part about this recipe? It's no fuss so no one will miss the bus.
*Pro tip: make them on Sunday night and serve all week long.
apple butter oatmeal breakfast bars
servings: 12
prep time: 10
cook time: 25
total time: 35
ingredients
2 cups old fashioned oats
¼ cup whole wheat flour
½ teaspoon baking powder
½ teaspoon cinnamon
¼ teaspoon sea salt
¼ cup honey
¼ cup peanut butter
¼ cup milk
1 cup apple butter
directions
Heat oven to 350°F, line an 8×8 baking pan with parchment paper.
In a medium-sized bowl, mix oats, flour, baking powder, cinnamon and salt together.
Add honey, peanut butter and milk into the oat mixture. Stir to fully combine.
Reserve about ¾ cup of the oat mixture and use the rest to create a bottom crust, by firmly pressing into the prepared pan.
Spread apple butter over the oat crust. Crumble the remaining oat mixture over the top of the apple butter.
Bake for about 25 minutes.
Let cool completely, remove from pan and cut into 12 bars.
Store in the refrigerator for up to one week.