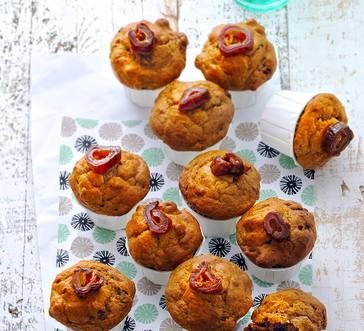 Sweet with just a bit of crunch, these banana nut muffins are a fan favorite. With a handful of ingredients and just a few steps, you'll have a tasty snack in no time. These quick bites are filled with protein-packed Greek yogurt and nuts to help keep your muscles strong and your belly satisfied!
Use a full-size muffin pan for larger muffins or the mini version for small muffins. These freeze well and can be made in advance so whether you're on the go, packing lunch, or soaking up some sun, you can grab one (or more) of these delectable treats.
For more snack and meal ideas, join The GIANT Company Dietitians for free, virtual classes where you can earn 50 Choice Points for each class that you attend. Sign up for our classes here!
https://www.eventbrite.com/o/the-giant-company-nutritionists-18689796139
Ingredients
¾ cup pitted dates
2 bananas
4 tbsp butter, room temperature
1 large egg
¼ cup Greek yogurt
1 cup flour
½ tsp ground cinnamon
1 tsp baking powder
¼ tsp baking soda
½ cup chopped pecans
Baking spray
Steps
Preheat the oven to 400°F. Liberally spray a 24-cavity mini muffin pan with baking spray. Reserve ¼ cup dates for garnish; chop remaining ½ cup dates and set aside. Add the bananas, softened butter, egg, and yogurt to a food processor, and pulse until smooth.
Combine the flour, cinnamon, baking powder, baking soda, chopped dates, and pecans in a large bowl. Add to the food processor and pulse until mixed.
Divide the batter among the muffin cavities. Slice the reserved dates and top each muffin with a date slice. Bake for 10 min., or until a toothpick
inserted into the center of a muffin comes out clean.
https://recipecenter.giantfoodstores.com/recipes/99929/banana-nut-mini-muffins