March is National Nutrition Month®! This year's theme is "Personalize your Plate." This month the Academy of Nutrition and Dietetics is reminding everyone there is no one size fits all approach to nutrition and health.  Every person has their own goals, backgrounds, and tastes.  In the spirit of National Nutrition Month, we challenge you to set weekly goals all month long that focus on nutritious foods every day.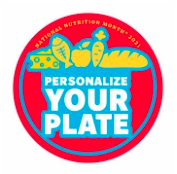 Tips to help Personalize your Plate:
Eat a variety of Nutritious foods
Focus on nutrient dense meals with foods from all food groups.
Proteins

: chicken, turkey, fish, tofu, tempeh, seitan, beans, lentils, legumes
Whole Grains

: rice, quinoa, corn, farro, oats, couscous, etc.
Fruits

: apples, bananas, grapes, oranges, melon, pineapple, berries, etc.
Vegetables

: leafy greens, broccoli, cauliflower, asparagus, beets, carrots, celery, cucumber, etc.
Dairy

: low fat milk, cheese, yogurt
Healthy Fats:

olive oil, avocado, olives, nut butters, nuts, and seeds
Plan Weekly Meals
Use recipes to create a weekly meal plan.  Planning out weekly meals can save you money, time, reduce food waste, and encourages healthy eating habits.  Use the meal plan to create a complete grocery list.  Having a list when going to the grocery store saves you time and money by limiting the number of times you must go shopping during the week.  Making a grocery list will also give you the convenience of having a variety of fruits, vegetables, proteins, and whole grains in the home for quick meals and snacks.  
Discover New Skills
Challenge your family to choose one new food item or flavor each week to encourage variety. Share meals together as a family and encourage all members to get involved in the planning and preparing process.
Repurpose leftovers by using them in new ways all week long.  For example: Monday prepare a Roast Chicken with vegetables, Tuesday create a Southwest style Chicken Salad, and Wednesday bake Mini Chicken Pot Pies.  Repurposing leftovers eliminates food waste and can spark creativity in the kitchen.   
Reach out for support 
Finding your "meal planning groove" can be tricky. Click Here  to download the FREE No-Diet Nutrition Guide from OnPoint Nutrition to help "Personalize your Plate" for a Renewed, Refreshed and Realigned approach to your family's nutrition.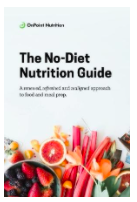 Awarded Philadelphia Magazine's – Best of Philly 2018, OnPoint is your go-to for all things health and nutrition. We are a team of Registered Dietitians and Nutritionists who believe in a whole foods, anti-diet approach to healthy living. Our evidence-based, one-on-one, virtual approach ensures you receive the highest level of service and sustainable results. Click here to learn more about the OnPoint approach.