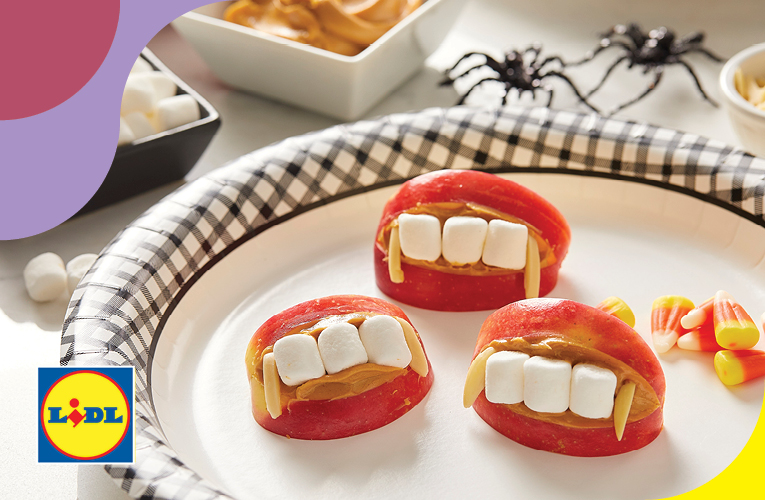 October is here! The air is cooling down, pumpkins are getting carved and your house is quickly filling up with candy. Sneak in some fresh fruit and quality time with your little ones with these fangtastic apple bites. Easy to assemble and deliciously scary, this snack will celebrate Halloween while being kid and wallet friendly.
Trick out snack time with this recipe from our partner Lidl. Perfect for little hands and big appetites, the recipe features only four ingredients and is a treat to put together. Take a bite of spooky season (we promise these won't bite back!).
apple bites
servings: 16
prep time: 25 min
cook time: 0 min
total time: 25 min
ingredients
4 Honeycrisp apples
2 cups organic creamy peanut butter, salted
1 cup mini marshmallows
¼ cup slivered almonds
directions
Wash and dry apples. Cut apples into quarters and remove core. Cut each quarter into 4 slices.
Stack 2 slices on top of one another with the skin side out to ensure you have enough slices to make each mouth.
Spread peanut butter on the inside of each apple slice.
Add mini marshmallows to the bottom apple slice to create teeth.
Sandwich apple slices together.
Create fangs by placing a slivered almond on each side of the mouth.
Fore more recipe ideas visit:  https://www.lidl.com/