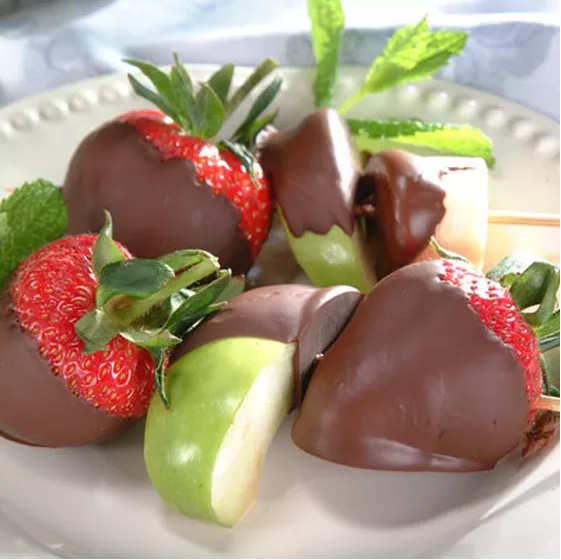 Today we are going to talk about thedietary implications of one of the most popular desserts: chocolate.  Many wonder will indulging in the sweet really derail your healthy living efforts? With proper meal planning and knowing the facts on cocoa, you can easily incorporate chocolate into your diet.
Cocoa
The health benefits of consuming cocoa products have recently been a popular topic in the nutrition world.  According to recent studies, researchers at the University of Putra Malaysia have discovered that cocoa contains a rich source of catechins, a flavanol polyphenol, which are believed to protect against heart disease, cancer, and various other medical conditions.  With this new data, chocolate retailers and the media have been advertising the health benefits of chocolate.
Common "Chocolate Praises"
"Eating dark chocolate reduces the risk of heart disease and cancer"

"The sugar in chocolate may have calming and pain relieving effects"

"Eating dark chocolate reduces the chances of acne or other skin eruptions"
Only if a person were to consume pure cocoa, the unheated form, would they be able to enjoy the health benefits found in the University of Putra Malaysia discovery. It is unlikely to see those benefits, as the majority of people eat processed chocolate, including both dark and milk chocolate. Processed chocolate products contain less desirable ingredients such as sugar, milk fats, and hydrogenated oil
Milk Chocolate vs. Dark Chocolate
Although we cannot categorize chocolate as a "healthy" food option, consuming once and awhile will not derail your healthy lifestyle. When choosing chocolate treats, it is better to pick dark chocolates compared to its milk and white counterparts. Dark chocolate has a more concentrated cocoa content, meaning higher in flavonoids, compared to milk and white chocolate. The more cocoa present in a chocolate product, the higher the antioxidant flavonoid content. For other health comparisons, the nutritional content of commonly consumed chocolates can be found in the chart below:
We suggest trying your luck with homemade chocolate treats.  Chocolate dipped fruits are always a favorite!
---
Ingredients
16 oz. dark chocolate chips

18 pieces of bite size fruit (strawberries, bananas, apples)

 Six 4 inch wooden skewers
Directions
Line baking sheet with wax paper

Microwave chocolate chips in small, uncovered, microwave-safe bowl on HIGH (100%) power for 1 minute; STIR. Chocolates may retain some of their original shape. If necessary, microwave at additional 10 to 15-second intervals, stirring just until chocolates are melted.

Dip fruit about halfway into chocolate; shake off excess. Or, place melted chocolate in small, heavy-duty plastic bag. Cut small corner from bag; squeeze to drizzle over fruit. Place fruit on prepared baking sheet. Refrigerate for 5 to 10 minutes or until chocolate is set.

Thread 3-4 pieces of fruit onto each skewer