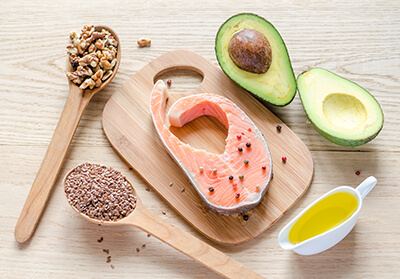 At one time or another a large percentage of middle and high school athletes experience a heart breaking and season ending stress fracture.  Long distance runners in particular tend to experience stress fractures due to the constant pounding of the pavement.  While it simply might just come with the territory, runners can make a few small dietary changes to help keep stress fractures at bay.
Eat within 60 minutes of a workout.  A meal that is a combination of complex carbs (whole grains), 'healthy' fat, and protein.  A great idea is a PB&J, or a granola bar and a banana.
Eat healthy fats to decrease inflammation.  Nuts, fatty fish (salmon and tuna), avocado, and even sunflower or pumpkin seeds.  Try a whole wheat wrap with drained canned tuna, slices of avocado and a sprinkle of sunflower seeds.  You can even get a little crazy and add some fresh salsa and shredded cheese for a tuna burrito.
Switch nutritional focus to ramping up calcium and vitamin D.  Calcium and D can come in a bunch of sneaky forms if your kiddo is not a huge fan of cow's milk.  Leafy greens like spinach, fortified orange juice and cereals, low fat cheese, and soy (or other non-dairy milk) are great places to start.  A favorite at our house is a green smoothie or berries, vanilla almond milk, a handful of baby spinach, and a teaspoon of chia seeds.  You won't even notice the taste of the spinach, and it's a total nutritional powerhouse!