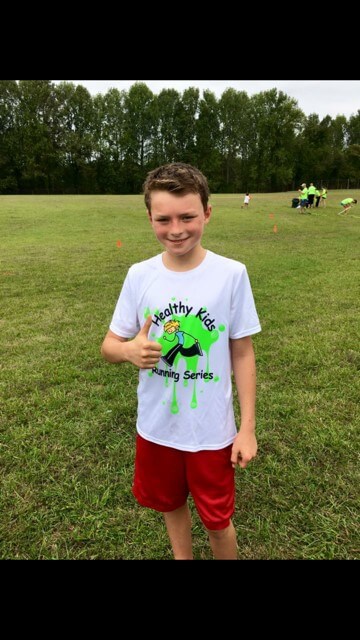 This weekend kicks off our spring 2017 HKRS season, so why not feature one of our awesome runners! Meet Jack M. from Lynchburg!
Jack will be starting his fourth season as a HKRS runner this spring at our Lynchburg location.  Jack and his family love the HKRS races! He says his favorite thing is crossing the finish line and being able to say he ran with all his heart.  Jack also enjoys cheering on his peers and encouraging them as they run. Sometimes he will finish, and continue running with friends to get them through the last and toughest part of the race.  He is always amazed by how great it feels to help a friend and join in their efforts to cross the finish line.
The HKRS races have also helped Jack gain self-confidence in his athletic abilities.  He has never lost a race and each season has won his division.  Running the races week after week have also helped to get him in shape for all the other sports that he loves!
HKRS is a family affair for Jack.  Two of his siblings have participated alongside in the last 3 seasons of HKRS. His whole family enjoys spending time together at the races and seeing the pride on their faces as they cross the line.  For the first time this spring, the youngest member of the family will be joining in the fun!
Thank you, Jack and family for being part of our HKRS events! Have a great spring season and we can't wait to see you #getupandgo!